Publication:
Indicadores de calidad en el herrerillo común ("Cyanistes caeruleus"): parasitismo, color, paternidad y envejecimiento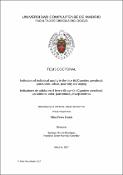 Files
Authors
Advisors (or tutors)
Editors
Publisher
Universidad Complutense de Madrid
Abstract
El estudio de la calidad individual tiene una enorme importancia en ecología evolutiva para desentrañar compromisos vitales. La calidad individual podría determinar la inversión destinada al mantenimiento del propio individuo, reproducción o supervivencia. Además, obtener información sobre otros miembros de la especie es esencial durante el emparejamiento, ya que formar pareja con individuos de alta calidad aseguraría beneficios de origen directo o indirecto para la descendencia. Numerosos estudios han confirmado que los individuos son capaces de percibir variaciones en la calidad individual de sus congéneres a través de varios indicadores de calidad. En aves, la ornamentación del plumaje ha sido ampliamente estudiada como señal de calidad, y así, es bien sabido que las hembras prefieren emparejarse con machos más ornamentados. No obstante, múltiples ornamentos en un mismo individuo, podrían contener información distinta en cuanto a calidad, pero aún no se han descrito patrones consistentes a este respecto. Otros indicadores de calidad podrían ser parámetros fisiológicos que confieren información sobre el estado de salud (como por ejemplo, infecciones por parásitos sanguíneos), o el acortamiento de telómeros como marcador biológico en procesos de envejecimiento...
The study of individual quality is paramount in evolutionary ecology if one is to unravel life-history trade-offs. The investment in self-maintenance, reproduction or survival may be determined by an individual's quality. Moreover, obtaining information from conspecifics might be essential in mate choice because mating with higher quality individuals could ensure direct or indirect benefits for the offspring. Several studies have provided conclusive evidence that individuals can assess variation in the quality of conspecifics through several indicators of quality. In birds, plumage ornamentation has received much attention in the literature as an indicator of quality, and it is well known that females often prefer more conspicuously ornamented males. However, multiple ornaments may convey different pieces of information regarding quality, but no consistent pattern has emerged to this respect. Other indicators of quality may refer to physiological parameters that convey information about health status (for example, blood parasitic infections), or telomere shortening as a biomarker for ageing processes...
Description
Tesis inédita de la Universidad Complutense de Madrid, Facultad de Ciencias Biológicas, leída el 08-05-2017.
Collections