Publication:
Design, preparation and characterization of hollow fiber membranes for desalinisation by membrane distillation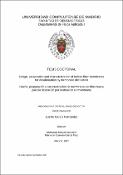 Files
Authors
Advisors (or tutors)
Editors
Publisher
Universidad Complutense de Madrid
Abstract
Water scarcity is nowadays a worldwide problem that requires new water resources and more efficient separation treatment techniques. Membrane distillation (MD) is a non-isothermal process whose driving force is the transmembrane vapor pressure. In this process, non-volatile solutes can be removed from a wide variety of feed aqueous solutions due to the transport of vapor molecules through microporous and hydrophobic membranes. Owing to its various advantages, water desalination by MD is an environmentally-friendly alternative, which can tackle the water shortage issue. The main challenge of MD is the design and preparation of improved membranes with suitable characteristics for this process. Hollow fiber is currently the most attractive membrane geometry for MD industrial implementation. Consequently, membrane engineers are endeavoring to develop novel hollow fiber membranes that meet the demanding MD requirements. In this PhD Thesis, advanced hollow fiber membranes have been prepared by the dry/wet or wet/wet spinning technique for desalination by MD. A comprehensive analysis of different spinning parameters effects on the membrane formation mechanism, characteristics and MD performance has been carried out. The highly hydrophobic copolymer, poly(vinylidene fluoride-co-hexafluoropropylene) (PVDF-HFP), has been chosen for the preparation of the organic hollow fiber membranes. Prior membrane preparation, the type of solvent and the mixed solvent used to prepare the PVDF-HFP dope solution have been studied taking into account the characteristics of the dope solution, which dictates the coagulation kinetic and the thermodynamic precipitation of the membrane formation. The adequate mixed solvent was found when the dope solution became thermodynamically more stable and the coagulation rate of the membrane phase inversion was slower due to the increase of the viscosity of the dope solution. The hollow fiber membrane prepared under these conditions exhibited macro-void free and thick sponge-like structure, resulting in suitable characteristics for MD and high direct contact membrane distillation (DCMD) permeate flux...
La escasez de agua es un problema mundial que requiere encontrar nuevos recursos hídricos y técnicas de separación más eficientes. La destilación en membrana (DM) es un proceso no isotermo cuya fuerza motriz es la diferencia de presiones de vapor a través de la membrana. En este proceso los solutos no volátiles pueden ser extraídos de una gran variedad de disoluciones acuosas ya que solo los compuestos volátiles pueden atravesar la membrana microporosa e hidrófoba. Debido a las ventajas de esta tecnología, la desalación de aguas mediante DM es una alternativa respetuosa con el medio ambiente que puede hacer frente al problema de la demanda de agua que sufrimos en la actualidad. El principal desafío de la DM es el diseño y la preparación de membranas con características adecuadas para este proceso. La membrana de fibra hueca es actualmente la geometría más atractiva para la implementación industrial de la DM. Por consiguiente, los expertos en membranas están esforzándose para desarrollar membranas novedosas de fibra hueca que cumplan los exigentes requisitos de este proceso. En esta tesis, se han preparado membranas avanzadas de fibra hueca mediante el método de hilatura de inversión de fase seco/mojado o mojado/mojado para la desalación por DM. Se ha llevado a cabo un análisis exhaustivo de los efectos de los diferentes parámetros de fabricación sobre el mecanismo de formación, las características de las membranas y su eficiencia en DM. Se ha seleccionado un copolímero altamente hidrófobo, fluoruro de polivinilideno-co-hexafluoropropileno (PVDF-HFP), para la preparación de membranas de fibra hueca orgánicas. Previo a la fabricación, se ha estudiado el tipo de disolvente utilizado en la disolución copolimérica considerando las características de dicha disolución, las cuales dictaminan la cinética de la coagulación y la termodinámica de la precipitación durante la formación de la membrana. Se encontró el disolvente mixto adecuado que conseguía que la disolución copolimérica fuese termodinámicamente más estable y el ritmo de coagulación más lento debido a un incremento de la viscosidad de la misma. La membrana de fibra hueca preparada bajo estas condiciones exhibió una estructura libre de huecos, con zonas esponjosas anchas, obteniéndose un flujo de permeado alto en DM con contacto directo (DMCD)...
Description
Tesis inédita de la Universidad Complutense de Madrid, Facultad de Ciencias Físicas, Departamento de Física Aplicada I, leída el 07-06-2017.
Collections