Publication:
MEGARA spectrograph mechanics and opto-mechanics in the AIV phase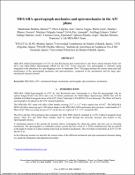 Advisors (or tutors)
Editors
Publisher
SPIE-Int Soc Optical Engineering
Abstract
MEGARA (Multi-Espectrografo en GTC de Alta Resolucion para Astronomia) is the future optical Integral-Field Unit (IFU) and Multi-Object Spectrograph (MOS) for the GTC 10.4m telescope. The spectrograph is currently being integrated in the laboratory for a pre-shipping review in September 2016. This paper presents the current status and final performance of the spectrograph mechanics and opto-mechanics, composed of the mechanisms and the large optomechanical elements mounts.
Description
© 2016 SPIE. Artículo firmado por 11 autores. Conference on Ground-Based and Airborne Instrumentation for Astronomy (VI. 2016. Edinburgh, Scotland)
Collections