Publication:
Competencia de la junta general de sociedades de capital en materia de gestión: relaciones internas y externas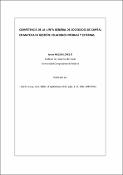 Authors
Advisors (or tutors)
Editors
Abstract
La neta separación funcional entre los órganos necesarios de las sociedades de capital ha sufrido un reciente cambio orientado a permitir a la junta general una mayor implicación en las decisiones que históricamente han pertenecido al órgano de administración. El presente trabajo explora las consecuencias que en materia de representación y de responsabilidad implica la nueva regulación sobre distribución de competencias entre órganos.
Functional separation between corporate directors and shareholders has undergone recent changes to allow shareholders meeting more involvement in matters that have historically belonged to directors. This work analyzes the implications of the new norms distributing powers in representation of the corporations and liability of directors.
Collections