Publication:
Enantiomer-Specific Oriented Attachment of Guanidine Carbonate Crystals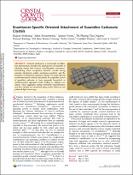 Advisors (or tutors)
Editors
Publisher
ACS Publications (American Chemical Society)
Abstract
Oriented attachment, a non-classical crystallization phenomenon, describes the spontaneous self-assembly of adjoining crystals with common crystallographic orientations. Introducing chiral recognition between crystals during oriented attachment enables enantiomer-specificity and the formation of homochiral structures. Herein, we report efficient enantiomer-specific oriented attachment for suspended crystals of guanidine carbonate to form mesoscale homochiral or enantioenriched aggregates under boiling or shaking conditions. These aggregates display polyhedral macrostructures and their chirality was monitored using circular dichroism and polarized light microscopy.
Collections