Publication:
Los geoparques como áreas de investigación, geoeducación y geoética en geociencias planetarias: el geoparque de Lanzarote y Archipiélago Chinijo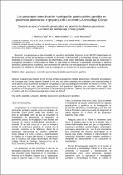 Advisors (or tutors)
Editors
Publisher
Sociedad Geológica de España.
Abstract
Los geoparques se han convertido en uno de los principales programas de la UNESCO relacionados con las geociencias. De los 120 geoparques existentes en el mundo, el de Lanzarote y Archipiélago Chinijo es el único que contempla la evaluación y caracterización de determinadas zonas como potenciales análogos para la exploración e investigación geológica y astrobiológica de Marte. En este trabajo se sintetizan las principales actividades y objetivos científicos, geoeducativos y geoéticos, que caracterizan la importancia de este geoparque en el marco de las geociencias planetarias y se detallan las principales zonas de investigación en relación con los procesos geológicos considerados.
Geoparks have become one of the main UNESCO geosciences-related programmes. Among the 120 geoparks, the Lanzarote and Chinijo Islands Geopark is the only one which comprises the evaluation and characterization of some specific areas as potential analogs for the geological and astrobiological exploration and research of Mars. This work synthesizes the main scientific, geoeducational and geoethical objectives and activities, which typify the significance of this geopark in the framework of the planetary geosciences. Likewise, the most important research zones in relation with the considered geological processes are defined.
Collections