Publication:
Revisión epistemológica de la Teoría del Framing y ejemplo de aplicación al análisis de mediaciones en la producción de discursos mediáticos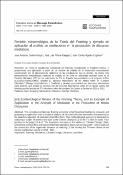 Advisors (or tutors)
Editors
Publisher
Universidad Complutense de Madrid
Abstract
Se revisa la arquitectura conceptual del framing considerando su tradición teórica, y proponiendo una aplicación a partir de un modelo de análisis de la interacción comunicativa caracterizado por el planteamiento dialéctico de las mediaciones que la afectan. Se ilustra este planteamiento metodológico mediante el análisis de un tema de actualidad mundial como es el Cambio Climático (CC) en los noticiarios de TV en España. Su precedente es el proyecto I+D+i (CSO2010-16936COMU), titulado El discurso hegemónico de los Media sobre el "Cambio Climático" (Riesgo, Incertidumbre y Conflicto) y prueba experimental con discursos alternativos entre jóvenes, que analizó la construcción del discurso hegemónico sobre el CC dando cuenta del framing que las noticias de TV ofrecieron sobre las cumbres de Cancún y Durban en 2010 y 2011.
The conceptual architecture framing according to his theoretical tradition is reviewed, and proposing an application from a model of analysis of the communicative interaction characterized by the dialectical approach of mediations that affect them. This methodological approach is illustrated by analyzing a subject of world events such as the Climate Change (CC) on the TV news in Spain. Your previous is the project R & D "The hegemonic discourse of the Media on "Climate Change" (Risk, Uncertainty and Conflict) and experimental test alternative discourses among youth", which analyzed the construction of the hegemonic discourse on realizing CC the framing that TV news offered on the Cancun and Durban summit in 2010 - 2011.
Collections