Publication:
Semblanza de Don Augusto Díez Carbonell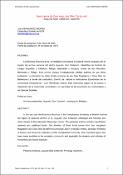 Authors
Advisors (or tutors)
Editors
Publisher
Universidad Complutense, Biblioteca Histórica
Abstract
La Biblioteca Histórica de la Universidad Complutense de Madrid recibió el pasado año el legado del archivo personal del doctor Augusto Díez Carbonell, catedrático de Instituto de Lengua Española y Literatura, filólogo, historiador y discípulo directo de don Marcelino Menéndez y Pelayo. Este archivo incluye investigaciones inéditas además de sus libros publicados. La donación de estos fondos proviene de sus hijas Magdalena y Clara Díez de Bethencourt a través del catedrático Emérito de Historia e Instituciones Económicas de la Universidad Complutense, Juan Hernández Andreu. Este importante legado se ha puesto a disposición de la comunidad universitaria y en particular de los estudiosos de Humanidades y de Ciencias Sociales.
In the last year the Historical Library of the Complutense University of Madrid received the legacy of personal archive of Dr. Augusto Díez Carbonell, philologist and historian and direct disciple of Don Marcelino Menendez Pelayo. This personal archive includes unpublished research and published books. The donation of these funds comes from their daughters Magdalena and Clara Diez de Bethencourt trough Juan Hernandez Andreu, professor Emeritus of History and Economic Institutions at the Complutense University. This important legacy has been made available to the university community and especially the students and scholars of Humanities and Social Sciences.
Collections