Publication:
Demandante de empleo y derecho comunitario de residencia. La interpretación restrictiva del TJUE en el Asunto Alimanovic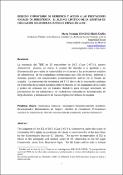 Authors
Advisors (or tutors)
Editors
Abstract
The judgment of the ECJ of 2015 (Case C-67/14, Alimanovic), states the scope of Citizenship EU's rights; in particular, the claim to social benefits of the host State by the Economically Inactive EU Citizens. The narrow interpretation of ECJ is based in the ambiguity and unclear scope of EU Citizenship in the EU Legal Framework about Free Movement Right. The UE States will be able to refusal social benefits to long-term unemployed citizens of EU and second-time jobseekers in the host EU State.
Collections