Publication:
Optimization of Enzymes Inactivation in High Pressure Processes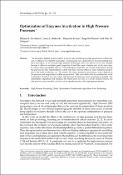 Advisors (or tutors)
Abstract
The demand of highest quality foods in terms of taste and their properties preservation without the use of additives is constantly increasing. Consequently, new approaches to food processing have been developed, as for example high-pressure technology which has proven to be very valuable because it allows to maintain good properties of food like some vitamins and, at the same time, to reduce some undesirable bacteria. This technology avoids the use of high temperatures during the process (not like Pasteurization), which may have adverse effect on some nutritional properties of the food, its flavour, etc. The models for some enzymatic inactivations, which depend on the pressure and temperature profiles are presented. This work deals with the optimization of the inactivation of certain enzymes when high pressure treatment on food processing is applied. The optimization algorithms will minimize the inactivation not only of a certain isolated enzyme but also to several enzymes that can be involved simultaneously in the high-pressure process.
Description
XIII Global Optimization Workshop GOW'16, 4-8 September 2106, Braga, Portugal
Citation
[1] Siegfried Denys, Linda R Ludikhuyze, Ann M Van Loey, and Marc E Hendrickx. Modeling conductive heat transfer and process uniformity during batch high-pressure processing of foods. Biotechnology Progress, 16(1):92–101, 2000. [2] Siegfried Denys, Ann M Van Loey, and Marc E Hendrickx. A modeling approach for evaluating process uniformity during batch high hydrostatic pressure processing: combination of a numerical heat transfer model and enzyme inactivation kinetics. Innovative Food Science & Emerging Technologies, 1(1):5–19, 2000. [3] Christoph Hartmann and Antonio Delgado. Numerical simulation of thermal and fluiddynamical transport effects on a high pressure induced inactivation. Simulation Modelling Practice and Theory, 13(2):109–118, 2005. [4] Rikimaru Hayashi, Yukio Kawamura, Teruko Nakasa, and Osamu Okinaka. Application of high pressure to food processing: pressurization of egg white and yolk, and properties of gels formed. Agricultural and Biological Chemistry, 53(11):2935–2939, 1989. [5] Eligius MT Hendrix, Pilar M Ortigosa, and Inmaculada García. On success rates for controlled random search. Journal of Global Optimization, 21(3):239–263, 2001. [6] Juan Antonio Infante, Benjamin Ivorra, Ángel Manuel Ramos, and Jose Maria Rey. On the modelling and simulation of high pressure processes and inactivation of enzymes in food engineering. Mathematical Models and Methods in Applied Sciences, 19(12):2203–2229, 2009. [7] Benjamin Ivorra, Bijan Mohammadi, and Ángel Manuel Ramos. A multi-layer line search method to improve the initialization of optimization algorithms. European Journal of Operational Research, 247(3):711–720, 2015. [8] Wyn L. Price. A controlled random search procedure for global optimisation. The Computer Journal, 20(4):367–370, 1977. [9] Lise Verbeyst, Ragne Bogaerts, Iesel Van der Plancken, Marc Hendrickx, and Ann Van Loey. Modelling of vitamin C degradation during thermal and high-pressure treatments of red fruit. Food and Bioprocess Technology, 6(4):1015–1023, 2013.
Collections