Publication:
Diseño, validación e implementación de una herramienta para la identificación de metabolitos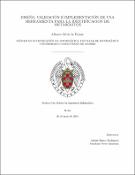 Authors
Advisors (or tutors)
Editors
Abstract
La Metabolómica es una sub-área de la biología de sistemas que tiene como objetivo el estudio de las moléculas de pequeño tamaño (normalmente <1000 Da) llamadas metabolitos. Los metabolitos son el resultado de las reacciones químicas que concurren en una célula y que revelan información acerca del estado del organismo en el que se encuentran. La parte computacional de un análisis metabolómico comienza con la identifcación de los compuestos químicos (metabolitos) correspondientes con las masas obtenidas mediante espectrografía de masas, y se lleva a cabo mediante búsquedas manuales en múltiples bases de datos de metabolitos. El proceso de identificación requiere del análisis de cada una de las masas detectadas en el espectrómetro junto a datos que ofrece la espectrometría, como es la abundancia de cada una de las masas o los tiempos de retención. Este proceso es tedioso y consume una gran cantidad de tiempo del químico analítico, pues debe buscarse la información base de datos a base de datos e ir cruzando los datos de cada una de las búsquedas hasta obtener una lista de resultados formada por los metabolitos presentes en la muestra a analizar. El objetivo de este proyecto es desarrollar una herramienta web que simplifque y automatice la búsqueda e identifcación de metabolitos. Para ello se ha construido una herramienta capaz de integrar y buscar automáticamente información de los metabolitos en múltiples bases de datos metabolómicas. Esto ha requerido unifcar los compuestos entre las diferentes bases de datos cuando había sufciente información para asegurar que los compuestos provenientes de varias fuentes de datos eran realmente el mismo. Además, en este proceso de búsqueda se tiene en cuenta conocimiento sobre las reacciones químicas que pueden alterar la masa del metabolito registrada por el espectrómetro de masas, como la formación de aductos y multímeros.
Metabolomics is a sub-field of systems biology which has as a target the study of molecules of small size (usually <1000 Da) named metabolites. Metabolites are the outcome of the chemical reactions that occur in a cell. They provide information about the state of the organism to which the cell belongs to. The computational analysis in a metabolomics study starts with the identifcation of the chemical compounds (metabolites) corresponding with the experimental masses obtained by mass spectrometry. This task is carried out through manual searches in multiple metabolomomic databases. The identifcation process requires the analysis of the experimental masses detected by the spectrometer and other data such as the abundance of each mass or the retention time. This is a long and tedious process which requires a large amount of time of the analytical chemists because they have to query manually multiple databases and integrate the results from each search. The result of this task is a list that contains the metabolites that have been successfully identifed. The goal of this project is to develop a web tool that simplifies and automates the search and identifcation of metabolites. To achieve this, a web application able to integrate and query automatically data from different metabolomic databases has been built. This required to unify compounds from the integrated databases when enough information for ensuring that compounds from different databases were actually the same compound was available. Furthermore, in the search procedure, it should be taken into account expert knowledge about chemical reactions which may change the experimental mass of the metabolite detected by mass spectrometer, such adduct or multimer formation.
Description
Máster en Ingeniería Informática, Facultad de Informática, Departamento de Sistemas Informáticos y Computación, curso 2015-2016