Publication:
La catedral gótica: La arquitectura como expresión integral de la cultura y el pensamiento pleno-medieval.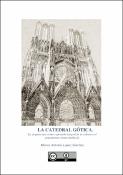 Authors
Advisors (or tutors)
Editors
Abstract
Este trabajo aborda el nacimiento de la arquitectura gótica desde una perspectiva multidisciplinar, mostrando que en la concepción y ejecución de las catedrales puede resumirse el pensamiento y la cultura pleno medieval.
This paper addresses the birth of Gothic architecture from a multidisciplinary perspective, showing that in the conception and execution of cathedrals full medieval thinking and culture can be summed up.
Unesco subjects
7202.02 Hermenéutica
,
7203.03 Metafísica, Ontología
,
5504.03 Historia Medieval
,
5101.07 Mitos
,
6201 Arquitectura
,
5506.02 Historia del Arte
,
6203.06 Música, Musicología
,
6203.05 Estética de las Bellas Artes
,
5505.05 Iconografía
,
6203 Teoría, Análisis y Critica de las Bellas Artes
,
5506.21 Historia de las Religiones