Publication:
Instituciones electorales y democracia: estudio del caso peruano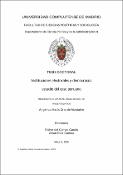 Files
Authors
Advisors (or tutors)
Editors
Publisher
Universidad Complutense de Madrid
Abstract
Las instituciones electorales peruanas experimentan un proceso de transformación en instituciones de relevancia política-democrática, trascendiendo su tradicional sentido jurídico y administrativo. Así lo demuestra la propia realidad institucional que permite distinguir 14 características de naturaleza política-democrática. Esta tesis propone que la forma de abordar las instituciones electorales desde la perspectiva política demanda la construcción de un marco teórico que permita comprender y aprehender las instituciones electorales como realidades democráticas en sí mismas. Esta construcción es posible a la luz de la renovación teórica de la democracia latinoamericana de los últimos años, que postula una idea amplia de democracia, que no sólo abarca la realización de elecciones, sino también la realización efectiva de la ciudadanía y la existencia de un estado capaz de garantizar y articular los derechos esenciales para el efectivo ejercicio de la ciudadanía. El análisis empírico del caso peruano muestra que las instituciones electorales realizan los atributos esenciales de la democracia ampliamente entendida y postula la existencia de una relación intrínseca entre instituciones electorales y democracia. La investigación comprende el periodo que transcurre entre los años 1979 y 2014, distinguiendo en dicho periodo tres etapas relevantes para el análisis institucional: 1979-1992, 1993-2000 y 2001-2014.
Peruvian electoral institutions experiment a process of transformation in institutions of political-democratic significance, transcending its t+raditional legal and administrative sense. This is demonstrated by the institutional reality that distinguishes itself 14 features of political-democratic nature. This thesis proposes that the way to address electoral institutions from the political perspective demands the construction of a theoretical framework to understand and catch the electoral institutions as democratic realities in themselves. This construction is possible in light of the theoretical renewal of Latin American democracy developed in recent years, which postulates a wide idea of democracy, which not only covers the conduct of elections, but also the effective realization of citizenship and the existence of a state capable of guaranteeing and articulate the rights essential to the effective exercise of citizenship. The empirical analysis of the Peruvian case shows that, electoral institutions perform the essential attributes of democracy widely understood and postulates the existence of an intrinsic relationship between electoral institutions and democracy. The research covers the period between 1979 and 2014, distinguishing in this period, three relevant stages for institutional analysis: 1979-1992, 1993-2000 and 2001-2014.
Description
Tesis inédita de la Universidad Complutense de Madrid, Facultad de Ciencias Políticas, Departamento de Ciencias Políticas y de la Administración II, leída el 08-07-2015
Collections