Publication:
Evidencia y marcos conceptuales de la lucha contra la corrupción en la policia de latinoamérica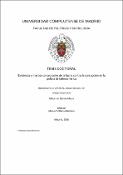 Files
Authors
Advisors (or tutors)
Editors
Publisher
Universidad Complutense de Madrid
Abstract
El objetivo de la investigación es doble: por una parte, contribuir al desarrollo del conocimiento identificando qué tipos de medidas de política anticorrupción tienen mejores resultados, particularmente en el contexto latinoamericano, en el ámbito policial; segundo, fortalecer el entendimiento del vínculo entre riesgo, medida de control y resultado en materia anticorrupción en los cuerpos policiales latinoamericanos. Esto nos lleva a una pregunta de investigación esencial: ¿por qué ciertas policías tienen un grado de corrupción menor que otras una vez controladas las variables socio-económicas y estructurales? Para darle respuesta, se plantean dos hipótesis principales: (i) la efectividad de estrategias anticorrupción que se basan en variables múltiples (organizacionales e individuales) es mayor que las estrategias que se enfocan en las fallas morales de los policías individuales y por tanto en la sanción de las inconductas funcionales; y (ii) que el contexto socio-económico, institucional y político también afecta el diseño, la implementación y los resultados de las estrategias anticorrupción en materia policial. Para la verificación de estas hipótesis, el estudio recurre a la técnica de estudios de caso. El diseño de la investigación es de casos reales múltiples (dos) con una sola unidad de análisis para explicar en detalle cómo y porqué las variables independientes afectan a la variable dependiente. Se han seleccionado como unidades de análisis a dos policías latinoamericanas con estrategias en materia anticorrupción y resultados en materia de seguridad y confianza policial de divergencia extrema, como lo son el de la Policía Nacional de Honduras y la Policía Nacional de Nicaragua. Durante el primer capítulo, se exploró el marco analítico general que permitió un acercamiento al problema de la corrupción policial desde los grandes pensadores de la ilustración hasta la evidencia empírica más reciente sobre el impacto de la seguridad en el Estado de Derecho y el desarrollo...
The objective of the research is twofold: first, to contribute to the development of knowledge by identifying which types of anti-corruption policy measures have better results, particularly in the Latin American context, in policing; Second, strengthen the understanding of the linkages between risk control measures and results in corruption in Latin American police forces. This leads to a fundamental research question: why some police forces have lower degrees of corruption, that after controlling for other socio-economic and structural variables? To answer this question, two main hypotheses are proposed: (i) the effectiveness of anti-corruption strategies based on multiple variables (organizational and individual) is greater than strategies that focus on the moral failings of individual policemen and therefore in the functional misconduct punishment; and (ii) the socio-economic, institutional and political context also affects the design, implementation and results of anti-corruption strategies in law enforcement. To verify these hypotheses, the study uses the case study technique. The research design consists of multiple case studies (two) with a single unit of analysis to explain in detail how and why the independent variables affect the dependent variable. The units of analysis selected are two Latin American police forces with corruption strategies and results in security and police confidence of extreme divergence, such as the National Police of Honduras and the National Police of Nicaragua. In the first chapter, the general analytical framework allowed an approach to the problem of police corruption, from the great Enlightenment thinkers, to the most recent empirical evidence on the impact of security in the rule of law and development are explored. It argues that the situation of insecurity in Latin America affects economic growth in many ways, but also affects trust and legitimacy of institutions. However, as Inglehart & Welzel suggest, there is no significant relationship between trust of people in institutions and the consequent democratic performance along several types of societies. Therefore, the loss of confidence in institutions, poses no immediate threat to democracy. Nevertheless, as Beetham et. al. suggest, lack of trust in institutions does affect the quality of democracy..
Description
Tesis inédita de la Universidad Complutense de Madrid, Facultad de Ciencias Políticas y Sociología, leída el 21-01-2016
Collections