Publication:
Afternoon and evening transitions in the atmospheric boundary layer: observational and numerical analysis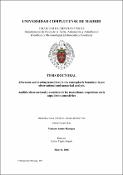 Files
Authors
Advisors (or tutors)
Editors
Publisher
Universidad Complutense de Madrid
Abstract
This PhD thesis focuses on the study of the physical processes occurring in the atmospheric boundary layer (ABL) during the transition from a convective, well-mixed diurnal situation, to a nocturnal stable one: the afternoon and evening transition. This is a challenging topic mainly due to the confluence of weak and frequently opposite forcings. Furthermore, the micrometeorological conditions in this time frame may play a crucial role in diverse and relevant events, such as fog onset and growth, the development of frost or health hazards linked to air quality. For these reasons, the interest in this area of research is currently increasing, and field experiments are designed to better understand the afternoon and evening transition processes.
En esta tesis doctoral se estudian los procesos físicos que tienen lugar en la capa límite atmosférica (CLA) durante la transición desde una situación diurna, convectiva y bien mezclada, a una situación de estabilidad nocturna: la transición vespertina. Este tema supone un reto por tratarse de un periodo temporal en el que confluyen forzamientos débiles y habitualmente de signos opuestos. Las condiciones micrometerológicas durante dicha transición pueden influir de manera decisiva, entre otros procesos, sobre la formación y el desarrollo de nieblas, heladas o situaciones de alerta por contaminación atmosférica, hechos todos de gran relevancia. Por ello, esta área de investigación está ganando interés, diseñándose campañas experimentales de medidas para mejorar el conocimiento actual sobre los procesos de la transición vespertina.
Description
Tesis inédita de la Universidad Complutense de Madrid, Facultad de Ciencias Físicas, Departamento de Física de la tierra, Astronomía y Astrofísica I (Geofísica y Meterología), leída el 16-12-2015
Collections