Publication:
Estructuras elementales del relato oral: Análisis lógico de un corpus de narraciones espontáneas sobre sucesos de vida cotidiana acaecidos en La Laguna y La Orotava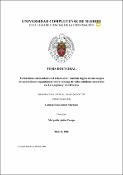 Authors
Advisors (or tutors)
Editors
Publisher
Universidad Complutense de Madrid
Abstract
Esta tesis doctoral desarrolla una nueva vía analítica para el estudio de los relatos orales desde la perspectiva comunicacional. Dicho modelo de análisis se centra en descubrir la existencia de patrones internos comunes y cómo se articulan, así como cuáles son las estructuras elementales que conforman las narraciones orales. La hipótesis de trabajo se concreta en la afirmación: Los relatos orales poseen unas estructuras narrativas elementales que son independientes del contexto en el que se producen. En consonancia con esta hipótesis, el objetivo general pretende conocer las estructuras narrativas elementales que subyacen a los relatos orales que componen el corpus. Con los resultados alcanzados en este trabajo se procura sentar las bases de una propuesta metodológica para el estudio de los relatos orales independientemente de su contexto, ofrecer un instrumento de trabajo que ayude al análisis de los relatos orales, a los relatos de vida y a los relatos históricos, entre otros, y contribuir al conocimiento estructural de los relatos orales en la línea de las lógicas del pensamiento humano. El diseño investigador se articula en varias fases aplicando un método analítico riguroso que pasa por emplear la metodología de Vladimir Propp (2001) que permite extraer las funciones de los relatos orales con los que se trabaja. Estas funciones pasan a ser los componentes operativos del análisis lógico estructural. El uso de la metodología lógico estructural del profesor Manuel Martín Serrano sirve para identificar las relaciones lógicas existentes entre las funciones del relato oral, de cada componente con el resto. Seguidamente, un trabajo de reducción analítica de las diferentes combinatorias observadas empíricamente permite realizar un estudio tipológico de la composición estructural elemental del relato oral. Esta tesis descubre que los relatos orales pueden ser representados por un conjunto limitado y reducido de funciones (componentes invariantes) sometidas a constricciones que son recurrentes en las unidades analizadas. Todos los relatos orales del corpus se conforman a partir de cinco estructuras elementales primarias (indispensables para la existencia de un relato oral) que operan como funciones narrativas raíces que pueden ser simples o compuestas (términos generados y definidos en el trabajo). La propuesta analítica y el conocimiento generado al amparo de esta tesis son el nuevo punto de partida para futuras investigaciones encaminadas a profundizar en las estructuras de los relatos orales, reflejo de estructuras lógico-cognitivas más profundas, y en su hipotética universalidad manifiesta a través de la recursividad de las formas de organización narrativa.
This doctoral thesis develops a new analytical way for the study of oral tales from the communicational point of view. This analytical model focuses on discovering the existence of common internal patterns and their articulation, as well as on finding the elementary structures that make up the oral tales. The work hypothesis is grounded on the following statement: The oral tales present elementary narrative structures that are independent from the context in which they are produced. According to this hypothesis, the general objective is to find the elementary narrative structures underlying the oral tales included in the corpus. With the results achieved through this research, we will try to set the grounds of a methodological proposal for the study of oral tales regardless their contexts, to offer a tool which helps to analyse the oral stories, daily life stories and historical tales, among others, and to contribute to the structural knowledge of the oral tales according to the logic of the human thought. This research design is articulated in several stages by applying a thorough analytical method using the methodology of Vladimir Propp (2001), which allows us to extract the functions of the oral tales with which the work is made. These functions will become the operational components of the logical and structural analysis. The logical and structural methodology developed by Professor Manuel Martín Serrano helps us to identify the logical relationships among the functions of the oral tales, comparing every single component to the rest of them. Then, an analytic reduction process of the different empirically observed combinatorials will allow us to perform a typological study on the elementary structural composition of the oral tale. This thesis shows that the oral tales can be represented by a limited and reduced set of functions (invariant components) submitted to constrictions which are recurrent in the units analysed in our corpus. Every single oral tale of the corpus is made from five primary elementary structures (which are essential for the existence of an oral tale) that operate as narrative stem functions and can be simple (simples) or complex (compuestas) (terms which have been generated from and defined in the work). Both the analytical proposal and the knowledge generated on the basis of this thesis form the new starting point for future researches addressed to go deeper into the structures of the oral tales, which are reflections of the deepest logic and cognitive structures, and into their hypothetic universality expressed through the recursiveness of the narrative organisation forms.
Description
Tesis inédita de la Universidad Complutense de Madrid. Facultad de Ciencias de la Información, leída el 11-01-2016
Collections