Publication:
El PAN en las elecciones de 2012: entender la derrota desde el punto de vista de sus élites, un estudio de caso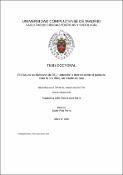 Files
Advisors (or tutors)
Editors
Publisher
Universidad Complutense de Madrid
Abstract
México vivió en el año 2000 la cristalización su tránsito democrático con características excepcionales: un proceso de cambio pacífico y la derrota de un partido que gobernó más de 70 años. En el año 2000 el PAN gana las elecciones presidenciales con un 43% de los votos, un margen de ventaja de 7 puntos sobre el PRI y 26 sobre el PRD. En el 2012, alcanza sólo un 25% de los votos, 18 puntos menos con respecto a su victoria del 2000, cayendo al tercer lugar y quedando 12 puntos abajo del PRI, y seis abajo del PRD. Esta tesis analiza la vida de Acción Nacional, para entender su fracaso para consolidarse como un partido que habiendo sido exitoso como oposición y después de llegar a la presidencia de la República, no logra mantenerse el poder. Es vencido por el partido contra el que había luchado por décadas. Este es un estudio de caso crucial, que pretende dar luz, a partir del punto de vista de las élites partidistas, y utilizando el enfoque teórico de la sendero dependencia (path-dependence en inglés) del Nuevo Institucionalismo, sobre los diferentes factores que pueden ayudar a entender la derrota del PAN en las elecciones del 2012. El objetivo es analizar por qué el PAN no fue capaz de transformar el sistema político y de su aparato de gobierno, y no pudo tampoco modernizarse a sí mismo entendiendo el papel y el tipo de partido que debía ser ante un nuevo escenario político que se abría con la transición política en México...
In 2000, Mexico experienced the materialization of a democratic transition with extraordinary characteristics: the pacific defeat of the Partido Revolucionario Institucional (PRI), a hegemonic party that has been in office for the last 70 years; the handover of power without resistance from the ruling party; and the arrival of Partido Acción Nacional (PAN), another party that although it has been in the opposition for a long time, it didńt perceived the actual chance of winning the presidential elections, until it was in the electoral process. With the arrival of the PAN, the citizenś expectations were, according to the partýs ideological stances that it had defended through its long history as an opposition party, that it was going to be a more honest and efficient government that could eliminate the numerous vices of the Mexican political system, and thus, generate a significant change in the institutional scaffolding and in the possibilities of development to improve the quality of life of the Mexican people. Mexicans were not satisfied with the government, so they believed in the promise of a democracy repeatedly announced by the PAN. Certainly, the expectancy for change was set very high, and in a country like Mexico with deep-rooted problems and with half of the population living in poverty, meeting these expectations was not an easy task. Nonetheless, after only 12 years in office, this party was not able to represent the best option for the citizens, and it was not able to make the necessary changes that it has passionately promised while it was in campaign. Mexicans felt disappointed towards the benefits of a democratic system, and in 2012, PAN stopped being perceived as trustworthy mobile for change...
Description
Tesis inédita de la Universidad Complutense de Madrid, Facultad de Ciencias Políticas y Sociología, leída el 10-12-2015
Collections