Publication:
Evaluación de capacidades institucionales para la implementación de política pública: casuística en Bogotá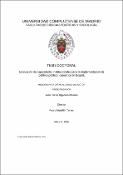 Files
Authors
Advisors (or tutors)
Editors
Publisher
Universidad Complutense de Madrid
Abstract
Bogotá, la capital de Colombia, es la ciudad con mayor población del país. Hacia el año 2014 la ciudad alcanza los 7.7 millones de habitantes que sumados a la población del área metropolitana, superan los 9 millones. Según el decreto ley 1421 de 19932, Bogotá está integrada por trece (13) sectores que se despliegan en tres niveles: a) nivel central: 16 entidades, b) nivel descentralizado: 31 entidades y c) nivel local: 20 localidades (Portel.bogota.gov.co, s.f). Desde el nivel central se lidera la formulación e instrumentación de las políticas públicas, en cuyo trazado convergen el cumplimiento el programa de gobierno del alcalde Mayor y el plan de desarrollo distrital, así como, procesos sociales que legitiman, desde lo local sus objetivos y metas. Sin embrago, la participación en diferentes proyectos de ciudad han nutrido mi experiencia profesional, pero sobre todo, han plantado interrogantes sobre los cuales he decido profundizar en el presente ejercicio académico, los cuales se citan a continuación: ¿Porqué, luego de intensivos y agotables ejercicios de formulación de políticas, en los cuales se integran múltiples intereses de la sociedad civil, el estado y el sector privado, en la etapa de implementación, los objetivos y metas no logran alcanzar los resultados esperados, como se deseó en el comienzo?. ¿Porqué, parecen insuficientes las capacidades institucionales que posee el distrito, para tramitar las políticas públicas que diseña, sobre todo en la fase de implementación, en la cual emergen la insatisfacción y el descreimiento social?...
Bogotá, the capital of Colombia, is the most populous city in the country. By the year 2014 the city reaches 7.7 million people that added to the population of the metropolitan area, exceed 9 million. According to Decree Law 1421 of 19931, Bogotá is composed of thirteen (13) sectors that are deployed at three levels: a) central level: 16 entities, b) decentralized level: 31 entities and c) local level: 20 locations (Portel.bogota.gov.co, s.f). From the central level is lead the formulation and implementation of public policies, in which guidelines converge compliance with the government program of the Metropolitan Mayor and the District development plan, as well as social processes that legitimize, from the local his objectives and goals. No clutch, participation in various city projects have nurtured my professional experience, but mostly planted questions on which I have decided to deepen the current academic year: ¿Why, after intensive and exhaustible policy formulation exercises in which multiple interests of civil society are integrated, the state and the private sector, in the implementation stage, the objectives and goals fail to achieve the expected results, as it was desired in the beginning? ¿Why seems insufficient the institutional capacities owned by the district to handle the public policies designed by it, especially in the implementation phase, in which social dissatisfaction and disbelief emerge?..
Description
Tesis inédita de la Universidad Complutense de Madrid, Facultad de Ciencias Políticas y Sociología, leída el 12-01-2016
Collections