Publication:
Eficacia de las plataformas electorales en términos de la reforma política del ejecutivo federal del 2012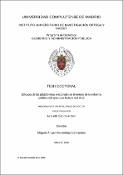 Files
Authors
Advisors (or tutors)
Editors
Publisher
Universidad Complutense de Madrid
Abstract
Los partidos políticos son agrupaciones temporales que median entre los grupos de la sociedad y el Estado y participan en la lucha por el poder político, a través de los procesos electorales. Los partidos tienen la obligación de registrar una plataforma electoral, a través de la cual plantean propuestas preliminares que se someten a consideración de los ciudadanos con el propósito de convocar al diálogo y a la deliberación, las cuales son enriquecidas y profundizadas a lo largo de las campañas, que debieran convertirse posteriormente en la base del programa de gobierno del partido que resulte triunfador en las elecciones. Respecto a la relación que existe entre la Plataforma Electoral y las iniciativas legislativas del Ejecutivo Federal en materia político-electoral, cabe señalar que: El 15 de diciembre de 2009, el Presidente presentó la iniciativa de Reforma Política compuesta por 9 puntos, a saber: Permitir la elección consecutiva de legisladores federales, locales, miembros de los ayuntamientos y jefes delegacionales; reducir el número de integrantes de las cámaras, modificando los principios para la integración de la Cámara de Senadores; adoptar la segunda vuelta electoral para la elección del Presidente; incrementar a 4% el porcentaje mínimo de votación para que un partido político nacional conserve su registro; incorporar las candidaturas independientes; permitir a los ciudadanos y a la Suprema Corte de Justicia de la Nación presentar iniciativas de ley; facultar al Presidente para presentar iniciativas preferentes y para observar, parcial o totalmente, el Presupuesto de Egresos de la Federación y la Ley de Ingresos; así como para publicar parcialmente aquellas leyes cuyas observaciones no hayan sido superadas en el Congreso...
Political parties are temporary groups that mediate between society groups and the State, and participate in the struggle for political power through electoral processes. Parties are obligated to register an electoral platform through which preliminary proposals are posed for the consideration of the citizens with the purpose of convening dialogue and deliberation which are enriched and deepened throughout the duration of the political campaigns, and must later become the base of the governing party program that triumphs in the elections. Regarding the relationship that exists between the Electoral Platform of the National Action Party (PAN) in 2006 and legislative initiatives of the Federal Executive branch in political-electoral matters, it should be mentioned that: on the 15 of December, 2009, the President presented a Political Reform initiative comprised of 9 points which included: Allowance for consecutive election of federal and local legislators, local council members as well as delegation chiefs; reduce the number of house members, modifying the basic principles for the integration of the Senate; adapt the second round of elections for the President; increase the minimum voting percentage to 4% so that a national political party can maintain its registration; incorporate independent candidates; allow citizens and the Supreme Court of the Nation to present legal initiatives; empower the President to present priority initiatives and to observe, partially or totally, the Expense Budget of the Federation as well as Income Laws; and to partially publish laws whose observations have not been passed in the Congress...
Description
Tesis inédita de la Universidad Complutense de Madrid, Facultad de Ciencias Políticas y Sociología, leída el 28-01-2016
Collections