Publication:
Análisis de las acciones colectivas en la gobernanza del agua subterránea en España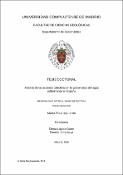 Files
Authors
Advisors (or tutors)
Editors
Publisher
Universidad Complutense de Madrid
Abstract
El uso de agua subterránea se ha visto en auge en las últimas décadas a escala global, gracias a los avances tecnológicos que han facilitado las extracciones y a los beneficios que aporta este recurso, como resiliencia frente a sequías. Un elemento a veces poco estudiado en el marco del uso intensivo ha sido la ausencia de instrumentos para la gobernanza del agua subterránea, es decir, la falta de herramientas institucionales y normas por parte de las autoridades y de los propios usuarios para regular la gestión y el uso del recurso. Las leyes y medidas que las autoridades del agua han establecido mediante métodos de regulación directa, como registro de extracciones, permisos y concesiones, y las declaraciones de sobreexplotación, no han sido suficientes para controlar y planificar el uso intensivo del agua. En algunos casos, las acciones colectivas de los propios usuarios, auto-regulándose y gestionando el recurso, han probado ser una fórmula más eficaz para su utilización y conservación, sin dar lugar necesariamente a una situación de "tragedia de los comunes". Así se demuestra en la obra de Ostrom (1990) en la que se dan ejemplos de resolución de problemas comunes sin necesidad de la intervención de un tercero, ya sea organismo público o ente privado. Otra forma de regulación indirecta ha sido mediante la aplicación de otras políticas del sector agrario o energético, en zonas con acuíferos grandes o un gran número de usuarios (Aarnoudse et al., 2011; Shah 2012)...
Groundwater use has increased notably at a global scale in the last decades, thanks to technological advances that facilitated abstractions and to the benefits that using this resource brings, such as resilience to drought. A considerable contribution to this intensive use has also been the absence of instruments for groundwater governance, due to the lack of rules and institutional tools by water authorities or users. The regulatory framework through registers, licenses and overexploitaion declaration, has not been sufficient to control and plan intensive use. That is shown in Ostroḿs work (1990) where examples are given for solving common problems without the intervention of a third party, either state or private. In some cases collective action by users, self-regulating and managing the resource, proved to be an effective way to use and conserve the groundwater resource avoiding situations such as the "tragedy of the commons". Another way of indirect regulation has been through the application of other policies in the agrarian or energy sector (Aarnoudse et al. 2011; Shah, 2012)...
Description
Tesis inédita presentada en la Universidad Complutense de Madrid, Facultad de Ciencias Geológicas, Departamento de Geodinámica, leída el 4-02-2016
Collections