Publication:
Ética del deseo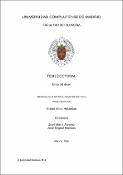 Files
Authors
Advisors (or tutors)
Editors
Publisher
Universidad Complutense de Madrid
Abstract
Nuestra época se caracteriza por ser una época de «seducción». Lo es, en la medida en que el imperativo actual se ha tornado hacia el goce. Por esta causa me parece de suma importancia estar advertidos de los peligros que esta época conlleva tales como: el hedonismo, el individualismo, la cosificación, la bancarrota del saber, la homogeneización. Síntomas actuales que ponen en entredicho la función de la ética. El psicoanálisis ha hecho grandes aportaciones a la ética. El descubrimiento freudiano ha subvertido la concepción filosófica del ser humano de siglos de pensamiento produciendo un verdadero corte en el pensamiento clásico o moderno donde se le otorgaba a «la razón» un valor muy importante pero que con el descubrimiento de «lo inconsciente» la razón, se vio puesta en jaque. Cuando Freud descubre «lo inconsciente» da cuenta de que «la razón» es sólo una parte de la consciencia y que por lo tanto «no somos dueños de nuestra propia casa», como antes se pensó...
The present age is characterized as a time of "seduction". It is, to the extent that the current imperative has become towards jouissance. For this reason it seems important to be aware of the dangers this age entails such as hedonism, individualism, bankruptcy of knowledge, homogenization. Current symptoms that challenge the role of ethics. Psychoanalysis has made great contributions to ethics. Freud's discovery has subverted the philosophical conception of human thinking by producing a cut in classical or modern thought where they gave "reason" an important value but with the discovery of "the unconscious" reason, was put in check. When Freud discovered "the unconscious" he realized that "reason" is only a part of consciousness and that "we do not own our own home" as we previously thought so...
Description
Tesis inédita de la Universidad Complutense de Madrid, Facultad de Filosofía, leída el 08/02/2016
Collections