Publication:
Relación entre los parámetros morfológicos, de gameto a blastocito, con las anomalías cromosómicas y el éxito reproductivo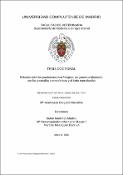 Files
Authors
Advisors (or tutors)
Editors
Publisher
Universidad Complutense de Madrid
Abstract
El uso de la estimulación ovárica controlada (EOC) en los tratamientos de reproducción asistida (TRA) tiene como consecuencia, en la mayoría de los ciclos, la obtención de múltiples ovocitos maduros, por lo que el número de embriones disponibles para transferir suele ser elevado. Muchos embriones morfológicamente óptimos, que son transferidos al útero, no logran implantar o generan gestaciones que finalizan en abortos espontáneos. Algunos de estos fracasos pueden ser explicados por la presencia de anomalías cromosómicas de los embriones seleccionados para la transferencia. La estrategia más común, en la mayoría de los laboratorios de fecundación in vitro (FIV), para identificar los embriones viables capaces de dar lugar a una gestación evolutiva (mayor o igual a 12 semanas), está basada en criterios morfológicos tales como el número de células y la simetría de las mismas, la presencia de multinucleación, el porcentaje de fragmentación y la velocidad de desarrollo. Sin embargo, alguno de los aspectos más importantes de la viabilidad embrionaria, como la carga cromosómica, son indetectables mediante la clásica observación morfológica. El objetivo principal de la presente tesis doctoral fue valorar la posible correlación entre la morfología del embrión en día 3 de desarrollo, y sus anomalías cromosómicas, con el fin de establecer un modelo predictivo...
The use of controlled ovarian stimulation (COS) in assisted reproduction treatment (ART) results in most cycles, obtaining multiple mature oocytes, thus the number of embryos available for transfer is usually high. Many morphologically optimal embryos, transferred to the uterus, fail to implant or generate pregnancies ending in spontaneous abortions. Some of these failures can be explained by the presence of chromosomal abnormalities in embryos selected for transfer. The most common strategy, in most in vitro fertilization (IVF) laboratories, to identify viable embryos capable of leading to a progressive pregnancy (greater than or equal to 12 weeks), is based on morphological criteria such as the number of cells and symmetry thereof, the presence of multinucleation, the percentage of fragmentation and development speed. However, one of the most important aspects of embryo viability, as chromosome load, is undetectable by the conventional morphological observation. The main objective of this thesis was to evaluate the possible correlation between embryo morphology on day 3 of development, and chromosomal abnormalities, in order to establish a predictive model. Moreover, as secondary objectives, the possible correlation between the embryo's morphology, in morula and blastocyst state, and its chromosomal abnormalities was assessed and comprehended, then, the implantation rate was studied in the preimplantation genetic diagnosis (PGD) program of the Valencian Infertility Institute (IVI Valencia)...
Description
Tesis inédita de la Universidad Complutense de Madrid, Facultad de Veterinaria, Departamento de Medicina y Cirugía Animal, leída el 26/11/2015
Collections