Publication:
Paralelización y mejora del proceso de conformación de haz en sistemas de apertura sintética para la generación de imagen ultrasónica en tiempo real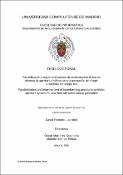 Files
Authors
Advisors (or tutors)
Editors
Publisher
Universidad Complutense de Madrid
Abstract
La ecografía es hoy en día uno de los métodos de visualización más populares para examinar el interior de cuerpos opacos. Su aplicación es especialmente significativa tanto en el campo del diagnóstico médico como en las aplicaciones de evaluación no destructiva en el ámbito industrial, donde se evalúa la integridad de un componente o una estructura. El desarrollo de sistemas ecográficos de alta calidad y con buenas prestaciones se basa en el empleo de sistemas multisensoriales conocidos como arrays que pueden estar compuestos por varias decenas de elementos. El desarrollo de estos dispositivos tiene asociada una elevada complejidad, tanto por el número de sensores y la electrónica necesaria para la adquisición paralela de señales, como por la etapa de procesamiento de los datos adquiridos que debe operar en tiempo real. Esta etapa de procesamiento de señal trabaja con un elevado flujo de datos en paralelo y desarrolla, además de la composición de imagen, otras sofisticadas técnicas de medidas sobre los datos (medida de elasticidad, flujo, etc). En este sentido, el desarrollo de nuevos sistemas de imagen con mayores prestaciones (resolución, rango dinámico, imagen 3D, etc) está fuertemente limitado por el número de canales en la apertura del array. Mientras algunos estudios se han centrado en la reducción activa de sensores (sparse arrays como ejemplo), otros se han centrado en analizar diferentes estrategias de adquisiciónn que, operando con un número reducido de canales electrónicos en paralelo, sean capaz por multiplexación emular el funcionamiento de una apertura plena. A estas últimas técnicas se las agrupa mediante el concepto de Técnicas de Apertura Sintética (SAFT). Su interés radica en que no solo son capaces de reducir los requerimientos hardware del sistema (bajo consumo, portabilidad, coste, etc) sino que además permiten dentro de cierto compromiso la mejora de la calidad de imagen respecto a los sistemas convencionales...
Ultrasound is nowadays one of the most popular visualization methods to examine the interior of opaque objects. Its application is particularly significant in the field of medical diagnosis as well as non-destructive evaluation applications in industry. The development of high performance ultrasound imaging systems is based on the use of multisensory systems known as arrays, which may be composed by dozens of elements. The development of these devices has associated a high complexity, due to the number of sensors and electronics needed for the parallel acquisition of signals, and for the processing stage of the acquired data which must operate on real-time. This signal processing stage works with a high data flow in parallel and develops, besides the image composition, other sophisticated measure techniques (measure of elasticity, flow, etc). In this sense, the development of new imaging systems with higher performance (resolution, dynamic range, 3D imaging, etc) is strongly limited by the number of channels in array's aperture. While some studies have been focused on the reduction of active sensors (i.e. sparse arrays), others have been centered on analysing different acquisition strategies which, operating with reduced number of electronic channels in parallel, are able to emulate by multiplexing the behavior of a full aperture. These latest techniques are grouped under the term known as Synthetic Aperture Techniques (SAFT). Their interest is that they are able to reduce hardware requirements (low power, portability, cost, etc) and also allow to improve the image quality over conventional systems...
Description
Tesis inédita de la Universidad Complutense de Madrid, Facultad de Informática, Departamento de Arquitectura de Computadores y Automática, leída el 9-02-2016
Collections