Publication:
Arquitectura asequible para monitorizar y controlar turbinas offshore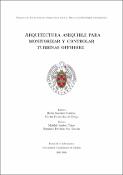 Advisors (or tutors)
Editors
Abstract
La energía eólica marina juega un papel clave en la transición ecológica. Las turbinas eólicas flotantes requieren de nuevos y más complejos algoritmos de control y métodos de comunicación. Este proyecto propone un sistema asequible de monitorización y control de diferentes prototipos de turbina, reales o simulados. En primer lugar, se analizan el modelado y las técnicas de control de las turbinas eólicas, así como la problemática de su implantación en alta mar. También se introduce el concepto de Gemelo Digital junto con sus utilidades en la materia. La aplicación de un lazo de control básico y la monitorización del estado del sistema en tiempo real sobre un prototipo de baja fidelidad evidencia la necesidad de más de un hilo de ejecución. Se solventa con el uso de un microcontrolador de varios núcleos, colas de comunicación entre hilos y del formato JSON para la encapsulación y subida de datos al servidor de ThingSpeak. La interfaz de control del sistema se materializa en un Gemelo Digital. Su desarrollo se lleva a cabo en el entorno MATLAB con el patrón de diseño ModeloVista-Controlador, lo que facilita su uso para ingenieros de otras ramas y favorece su escalabilidad. El Gemelo Digital permite monitorizar en tiempo real las turbinas de una granja eólica, formada particularmente por un prototipo físico y por una simulación, así como enviarle comandos, ajustando de forma remota el ángulo de las palas, la carga eléctrica o ejecutando paradas de emergencia. El software integrado con ejecución multihilo se encarga del control de los componentes del prototipo de turbina escalado y es capaz de comunicarse bidireccionalmente con el Gemelo Digital. Resulta de una fusión con algoritmos de control PID modelados por miembros de otras disciplinas del grupo de trabajo. Por último, se muestran diferentes casos de uso del funcionamiento del prototipo de turbina eólica y del simulador a través de la interfaz del Gemelo Digital.
Offshore wind energy plays a key role in the ecological transition. Floating wind turbines require new and more complex control algorithms and communication methods. This project proposes an affordable monitoring and control system for different turbine prototypes, real or simulated. Firstly, the modelling and control techniques of wind turbines are analysed, as well as the problems of offshore deployment. The concept of Digital Twin is also introduced along with its utilities in the field. The implementation of a basic control loop and real-time system status monitoring on a low-fidelity prototype shows the need for more than one thread of execution. This is solved with the use of a multi-core microcontroller, inter-thread communication queues and the JSON format for encapsulation and uploading data to ThingSpeak server. The control interface of the system is materialised in a Digital Twin. Its development is carried out in the MATLAB environment with the Model-View-Controller design pattern, which facilitates its use for engineers from other branches and favours its scalability. The Digital Twin makes possible to monitor the turbines of a wind farm in real time, consisting of a physical prototype and a simulation, and to send commands to it, remotely adjusting the angle of the blades, the electrical load or executing emergency stops. The embedded software with multi-threaded execution takes care of the control of the scaled turbine prototype components and is able to communicate bidirectionally with the Digital Twin. It results from a fusion with PID control algorithms modelled by members of other disciplines in the working group. Finally, different use cases of the operation of the wind turbine prototype and the simulator are shown through the Digital Twin interface.
Description
Trabajo Fin de Grado en Ingeniería Informática, Facultad de Informática UCM, Departamento de Arquitectura de Computadores y Automática, Curso 2021/2022.