Publication:
Autonomía de vehículos "Folllow me" en zonas aeroportuarias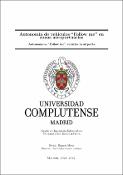 Authors
Advisors (or tutors)
Editors
Abstract
El objetivo del proyecto es mejorar el proceso de guiado de aeronaves en zonas aeroportuarias realizando el proceso de una manera autónoma y segura. A lo largo del presente trabajo se exponen las medidas de seguridad y adaptabilidad que se deben tomar en la implementación de un sistema que tome un dron que realice la tarea del guiado de aeronaves. Se ha diseñado el software necesario que debe incluir el modelo, tanto de guiado del dron por las calles de rodaje, como de la acción de controlar las aeronaves que se encuentran a su alrededor. El control de objetos alrededor del dron se ha realizado utilizando inteligencia artificial basada en visión por computador. Este sistema, además de calcular la posición de las aeronaves, será capaz de reconocer distancias a los mismos. El sistema de guiado del dron está basado en waypoints. Para este sistema se ha creado una estructura de datos junto con un analizador léxico del lenguaje que pueda reconocer errores en los códigos que se cargarán para el movimiento. En adición a todo el trabajo realizado se ha estudiado la viabilidad del proyecto ofreciendo soluciones a los contratiempos encontrados. También se ha incluido una lista de mejoras y cambios sugeridos para futuras versiones del proyecto.
This proyect aims to improve "Follow me vehicles" procedures assuring an autonomous and secure way to carry aircrafts. Along this proyect we will study the availability and adaptability measures that must be taken into account, as well as the necessary software that has to be implemented in the final model. The guiadance system that allows the drone to move and the AI system that allows to control objects and distances have been studied too. During the proyect, computer vision based AI solutions were studied. This solutions allow the drone to generate a behaviour to guide aircrafts and recognize their position and distance. The drone movement system is based in a waypoint system which uses coordinates like Google Maps. To use it, a lexic language processor system has been created. Given an airport coordinate file, this system allows the drone to recognize errors in input data. In addition to all the work done, project availability has been analyzed, giving solutions to encountered issues trying to guarantee the safety of the operations. We have added a changes list and improvements section at the end of this document.
Description
Trabajo de Fin de Grado en Ingeniería Informática, Facultad de Informática UCM, Departamento de Arquitectura de Computadores y Automática, Curso 2021/2022.