Publication:
Modeling host-parasitoid interactions with correlated events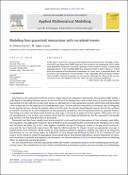 Advisors (or tutors)
Editors
Abstract
In this paper, we present a host-parasitoid model with correlated events. We apply a block-structured state-dependent (BSDE) approach that provides a methodological tool to model state-dependent Markovian transitions operating in the presence of phases. A particularly appealing feature of the resulting BSDE host-parasitoid model is that it allows us to deal with non-exponential distributional assumptions on a host birth, a parasitoid death, and parasitism, but keeping the dimensionality of the underlying block-structured Markov chain tractable. Numerical examples are presented to illustrate the effects of the correlation structure on the expected extinction times and the extinction probabilities.
Collections