Publication:
De la necesaria distinción entre el exequátur de laudos y sentencias extranjeras(Auto 97/ 2012 del TSJ de Cataluña de 30 de mayo).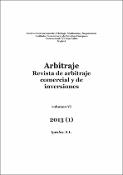 Authors
Advisors (or tutors)
Editors
Abstract
El Auto de 30 de mayo de 2012 del Tribunal Superior de Justicia de Cataluña, otorga el exequátur a un laudo arbitral dictado por el Tribunal Arbitral du Sport. Desde el punto de vista del Derecho internacional privado, el Auto presenta dos cuestiones importantes: (i) se equipara el reconocimiento y ejecución de sentencias extranjeras con el de laudos arbitrales dictados fuera de España, y (ii) se presenta un enfoque de orden público limitado a una perspectiva puramente interna y constitucional. Estas y otras cuestiones doctrinales, serán analizadas en el presente comentario. ABSTRACT: The Order of the High Court of Justice of Catalonia dated May 30, 2012 , grants the exequatur an award issued by the Court of Arbitration for Sport. From the point of view of Private International Law, the Order introduces two important issues: (i) it equates the exequatur of foreign judgments with the exequatur of arbitration awards made outside of Spain, and (ii) presents a limited public policy approach, purely internal and constitutional. These and other doctrinal issues will be discussed in this commentary.
Collections