Publication:
Sofía Casanova en la I Guerra Mundial: una reportera en busca de la paz de la guerra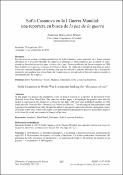 Authors
Advisors (or tutors)
Editors
Publisher
Universidad Complutense de Madrid
Abstract
En este texto se analiza el trabajo periodístico de Sofía Casanova como reportera en el frente oriental (Polonia) en la I Guerra Mundial. Su objetivo es destacar las ideas pacifistas que la autora va exponiendo en las crónicas escritas para el diario Abc y que fueron publicadas de forma conjunta en 1916 bajo el título De la guerra. Crónicas de Polonia y Rusia. Se explicará el sentido de esta obra no solo a través del contexto biográfico de la autora, sino que se utilizará el entorno ideológico de la Europa del momento para explicar que el pacifismo de Casanova no es está alejado de los movimientos sociales o del pensamiento de su época.
In this paper we analyze the journalistic work of Sofia Casanova as a reporter on the Eastern Front (Poland) in the First World War. The objective of this paper is to highlight the pacifist ideas that the author is exposing in the chronicles written for the daily ABC and were published together in 1916 under the title From the War: Chronicles of Poland and Russia I. The meaning of this journalistic work is going to be explained not only through the author's biological context but also the ideological context of Europe at that time, which will enable us to understand that her pacifism does not mean that Casanova is far from the social movements or thought of her time.
Citation
ALAYETO, Ofelia (1992), Sofia Casanova (1861-1958): Spanish Poet, Journalist and autor, Maryland: Scripta Humanistica BERNÁRDEZ RODAL, a. (Dir.) (2007) Escritoras y periodistas en Madrid (1876-1926), Madrid: Ayuntamiento de Madrid. BUGALLAL Y MARCHESI, José Luis (1964) Sofía Casanova. Un siglo de glorias y dolores, Litografía e Imprenta Roel: La Coruña. CASANOVA, Sofía, La mujer española en el extranjero, Madrid, 1910 Conferencia dada en el ateneo de Madrid el 9 de abril de 1910. --- (1919) "Impresiones de una mujer en el frente Oriental de la guerra europea", Centro del Ejército y la Armada, Madrid. Conferencia leída el 25 de abril de 1919 --- (1916) De la guerra. Crónicas de Polonia y Rusia. Madrid, R. de Velasco. HOOPER, Kirsty (2008), Sofía Casanova, a Spanish Writer in the European Fin de Siécle, Tennessee: Vanderbilt University Press. LERMA RUEDA, Antonio y MARTÍN POLÍN, Raquel y (2007) "Ante todo ciudadanas. Prensa y voto a través de la prensa madrileña (1900-1931), en MO ROMERO, Esperanza (Coord.) La voz de las mujeres: la prensa madrileña y los discursos de género (1740-1931), Madrid: Ayuntamiento de Madrid. Págs. 122-166. LORENZO ARRIBAS, Josemi (2007) "Tensiones militarismo/ antimilitarismo" en BERNÁRDEZ RODAL, Asunción (Dir.) (2007) Escritoras y periodistas en Madrid (1876-1926), Madrid: Ayuntamiento de Madrid. Págs. 125- 162. MAGALLÓN PORTOLÉS, Carmen (2006) Mujeres en pie de paz. Pensamiento y prácticas, Madrid: Siglo XXI. MARTÍNEZ MARTÍNEZ, Rosario (1999) Sofía Casanova, mito y literatura. Santiago de Compostela: Xunta de Galicia. OSORIO, Olga, (1997) Sofía Casanova, Xunta de Galicia PAZOS, Antón (Coord.) (2010) Vida e tempo de Sofía Casanova (1861-1958), Santiago de Compostela: Instituto de Estudios Galegos "Padre Sarmiento". PERINAT, Adolfo y MARRADES, Mª Isabel (1980), Mujer, prensa y sociedad en España 1800-1939, Madrid: Centro de Investigaciones Sociológicas. RIUS GATELLI, Rosa (ed.) (2006) Sobre la guerra y la violencia en el discurso femenino (1914-1989) Barcelona: Universidad de Barcelona. ROCH CASTELLANOS, Mercedes (1977), La mujer y la prensa. Desde el siglo XVII a nuestros días. Madrid: Edición propia. SCANLON, Geraldine M., (1986) La polémica feminista en la España contemporánea (1868-1974) Madrid: Akal. SIMON-PALMER, Mª del Carmen (1991) Escritoras españolas del siglo XIX: manual bio-bibliográfico, Madrid: Castalia. Págs. 530-552. WARD, Paul (2001) "Women of Britain Say Go: Women's Patriotism in the First World War" en Twentieth Century British History, 12/1, pp. 23-45.
Collections