Publication:
Usos socioeconómicos de las TIC relacionados con el empleo en Europa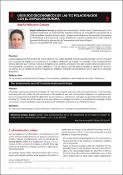 Authors
Advisors (or tutors)
Editors
Abstract
Las tecnologías de la información y de la comunicación (TIC) suelen asociarse a mejoras socioeconómicas y se han vinculado con la creación de empleo o con aumentos en la calidad y retribución del trabajo. Sin embargo a nivel macroeconómico llama la atención que mientras el proceso de digitalización aumenta, el empleo y los salarios están deteriorándose en términos generales. Se exploran, con datos referidos a la UE-15, algunos usos de estas tecnologías en relación con el paro y los salarios, en un contexto económico marcado por problemas crecientes de rentabilidad y por el auge de los mercados financieros. [ABSTRACT] Information and communication technologies (ICT) are often related to economic and social improvements. They have been associated with job creation as well as increases in the quality of work and remuneration. However, at a macroeconomic level, it is noteworthy that while the digitization process increases, employment and wages are generally deteriorating. Referencing EU-15 data, this article explores some uses of these technologies in relation to unemployment and wages, within an economic context marked by increasing problems of profitability and by the rise of financial markets.
Description
Documento vinculado con el proyecto de I+D+i "La producción social de la comunicación y la reproducción social en la era de la globalización" (ref. CSO2010-22104-C03-01). Este proyecto ha sido financiado por el Ministerio de Ciencia e Innovación (convocatoria competitiva del Plan Nacional de I+D+i 2008-2011 - Programa de Proyectos de Investigación Fundamental) y realizado por el grupo de investigación de la Universidad Complutense de Madrid "Identidades sociales y comunicación" desde el año 2011 al 2014. En E-Prints se han depositado los trabajos relacionados con el proyecto (véase "Trabajos relacionados con el proyecto de I+D+i La producción social de la comunicación y la reproducción social en la era de la globalización" (http://eprints.ucm.es/24131/).
Citation
Álvarez, Ignacio; Luengo, Fernando (2010). Financiarización, empleo y salario en la UE: el impacto de las nuevas estrategias empresariales. Madrid: Instituto Complutense de Estudios Internacionales. http://eprints.ucm.es/10599 Álvarez, Ignacio; Medialdea, Bibiana (2010). "La influencia de la financiarización sobre el gobierno corporativo de la empresa: el papel de los inversores institucionales". Revista de economía mundial, n. 24, pp. 165-191. http://rabida.uhu.es/dspace/bitstream/handle/10272/3579/b15777911.pdf?sequence=1 Ballesteros-Carrasco, Begoña (2012). Las tecnologías de la información y de la comunicación en los cambios laborales: análisis sociohistórico de 1970 a 2010. Tesis doctoral. Universidad Complutense de Madrid. http://eprints.ucm.es/16168/1/T33820.pdf Barrios, Salvador; Burgelman, Jean-Claude (2007). Information and communication technologies, market rigidities and growth: Implications for EU policies. Luxemburgo: Oficina de Publicaciones de la Unión Europea. ISBN: 978 92 79 07458 5 http://ftp.jrc.es/EURdoc/eur23027en.pdf http://dx.doi.org/10.2791/46759 Comisión Europea. Anual macro-economic database (Ameco). http://ec.europa.eu/economy_finance/db_indicators/ameco/index_en.htm Eurofound (2008). Condiciones de vida y de trabajo en Europa. http://www.eurofound.europa.eu/pubdocs/2008/90/es/1/EF0890ES.pdf Eurofound (2009). Comparative analysis of working time in the European Union. http://www.eurofound.europa.eu/docs/ewco/tn0803046s/tn0803046s.pdf Eurofound (2010). Encuesta europea sobre las condiciones de trabajo. http://www.eurofound.europa.eu/surveys/smt/ewcs/results.htm Forrester, Viviane (2000). Una extraña dictadura. Buenos Aires: Fondo de Cultura Económica. ISBN: 950 557 358 8 Graaff, Thomas; Rietveld, Piet (2003). "ICT and substitution between out-of-home and at-home work". Tinbergen Institute discussion paper. Amsterdam: Tinbergen. http://www.tinbergen.nl/discussionpapers/03061.pdf Martín-Serrano, Manuel (1992). "Los cambios acontecidos en las funciones de la comunicación y en el valor de la información". Revista española de investigaciones sociológicas, n. 57, pp. 13-20. http://eprints.ucm.es/13240 Navarro, Vicenç (2007). "¿Cómo está evolucionando la situación social de la Unión Europea?". Colección Mediterráneo económico, n. 12, pp. 417-437. http://www.publicacionescajamar.es/pdf/publicacionesperiodicas/mediterraneo-economico/12/12-209.pdf Pérez, Jorge (coord.) (2004). Productividad, crecimiento económico y TIC. http://www.usc.es/atpemes/IMG/pdf/04_03_30productividad_crecimiento_TIC.pdf Plantenga, Janneke; Remery, Chantal (2010). Flexible working time arrangements and gender equality. A comparative review of 30 European countries. Luxemburgo: Oficina de Publicaciones de la Unión Europea. ISBN: 978 92 79 15545 1 http://goo.gl/rEjDd. http://dx.doi.org/10.2767/29844 Riedman, Arnold (2006). Working time and work–life balance in European companies. Establishment survey on working time 2004-2005. Luxemburgo: Oficina de Publicaciones de la Unión Europea. ISBN: 92 897 0929 4 http://www.eurofound.europa.eu/pubdocs/2006/27/en/1/ef0627en.pdf Sanabria, Antonio (2009). "La naturaleza salarial del ajuste". En: Álvarez, Ignacio et al. (2009). Ajuste y salario. Las consecuencias del neoliberalismo en América Latina. Madrid: Fondo de Cultura Económica, pp. 27-51. ISBN: 978 84 375 0624 1 Torrent-Sellens, Joan (coord.) (2008). La empresa red: tecnologías de la información y la comunicación, productividad y competitividad. Madrid: Ariel. ISBN: 978 84 344 4277 1 Vaguer, Christine; Van-Bastelaer, Aloïs (2004). Working overtime. http://www.eds-destatis.de/en/downloads/sif/nk_04_11.pdf Vidal, José-María; Martínez, Javier (2000). Economía mundial. Madrid: McGraw Hill. ISBN: 84 481 1684 4
Collections