Publication:
Radioactive decontamination of water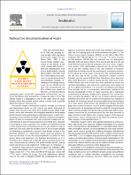 Advisors (or tutors)
Editors
Citation
[1] D. Normile, Japan disaster: cooling a hot zone, Science 339 (March 1, 2013) 1028–1029. [2] J. Reinoso, R. Méndez, Japón se enfrenta al apagón nuclear, El País, 81, 09th March 2012. [3] D. Parajuli, et al., Dealing with the aftermath of Fukushima Daiichi nuclear accident: decontamination of radioactive cesium enriched ash, Environ. Sci. Technol. 47 (2013) 3800–3806. [4] Fukushima Daiichi nuclear disaster, Wikipedia, The Free Encyclopedia, http://en.wikipedia.org/wiki/Fukushima_Daiichi_nuclear_disaster. [5] Kurion, Wastewater treatment at Fukushima Daiichi Nuclear Plant, http://www.kurion.com/applications/separation/fukushima. [6] World Nuclear Association, Fukushima accident 2011, http://www.world-nuclear.org/info/Safety-and-Security/Safety-of-Plants/Fukushima-Accident-2011/ April 2nd 2013.
Collections