Publication:
Artificios vegetales. Una aproximación a lo monstruoso- vegetal desde la mecánica y la práctica artística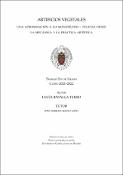 Authors
Advisors (or tutors)
Editors
Abstract
Desde hace mucho tiempo, lo 'natural' ha sido considerado desde la tradición de pensamiento occidental como un mero escenario de fondo para las acciones humanas, fruto esto de una visión del mundo sin duda totalmente antropocéntrica. En el caso concreto de las plantas, estas han sido a menudo relegadas a la 'otredad', a la condición de un objeto pasivo usado para embellecer y dulcificar nuestros entornos. Todo ello negando sistemáticamente su capacidad de agencia - probablemente por escaparse esta a nuestra percepción y temporalidades humanas, máxime en un contexto de capitalismo avanzado. Bajo la premisa de buscar difuminar el binomio naturaleza / cultura (o natural / artificial), y para concebirlo como un continuum, en este escrito se entra a analizar los diversos procesos que han llevado a la actual crisis ecosocial, así como se atiende a ciertos cruces entre el ecofeminismo y el xenofeminismo. Posteriormente, se procede a revisar el propio concepto de 'máquina' (tanto en su sentido literal como abstracto). A su vez, en el presente trabajo se acoge la noción de lo 'monstruoso vegetal' como modo y estrategia para subvertir esa dinámica de dominación sobre lo vegetal, teniendo como modelo el caso del género cinematográfico del plant-horror. Desde modos de hacer propios de la mecánica, se ha llevado a cabo una producción artística con una serie de mecanismos realizados con elementos vegetales que pretenden explorar el aparente oxímoron de un 'naturaleza manufacturada'. ¿Cómo acercarse hoy a la noción de 'naturaleza' desde la práctica artística contemporánea?
For a long time, the 'natural' has been considered by the Western tradition of thought as a mere background scenario for human actions, as a result from an undeniably anthropocentric vision of the world. In regards to the specific case of plants, these have often been relegated to 'otherness', to the condition of a passive object used to embellish and sweeten our surroundings. All this by systematically denying its agency - probably due to it escaping our human perception and temporalities, especially under a context of advanced capitalism. Under the premise of seeking to blur the binomial nature / culture (or natural / artificial), and so as to conceive it as a continuum, this paper analyzes the various processes the various processes that have led to the current ecosocial crisis, as well as it addresses certain crosses between ecofeminism and xenofeminism. Subsequently, we proceed to review the very concept of 'machine' (both in its literal and abstract sense). At the same time, the present work embraces the notion of the 'monstrous vegetal' as a way and strategy to subvert that dynamic of domination over plants, taking as a model the case of the plant-horror film genre. From mechanical ways of doing, an artistic production has been carried out with a series of mechanisms made with plant elements that seek to explore the apparent oxymoron of a 'manufactured nature'. How to approach the notion of 'nature' today from contemporary artistic practice?