Publication:
Normas y realidad educativa en la tradición administrativa española: reflexiones a partir de la LOMCE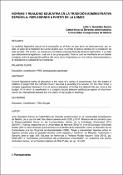 Authors
Advisors (or tutors)
Editors
Abstract
La realidad legislativa actual de la educación es el fruto de una serie de concurrencias: por un lado, el peso de la tradición en cuanto al peso que ha tenido la Iglesia católica en la prestación de este servicio. Por el otro, un entramado normativo complejo fruto de diversos elementos. Y un dato que distorsiona la legislación, cuál es el del presupuesto. Todo lo cual se manifiesta en un debate complejo entre la percepción política del corto plazo (impulsada por los indices internacionales) y la realidad de la calidad de la enseñanza.
Current legislative reality of education is the result of a series of occurrences: first, the weight of tradition in weight that the Catholic Church has had in providing this service. On the other hand, a complex regulatory framework fruit of various elements. A finding that distorts the law, what is the budget. All of which is manifested in a complex debate between political perception of short-term (driven by international indices) and the reality of the quality of teaching.
Collections