Publication:
From glassy bulk systems to spin-glass films: simulations meet experiments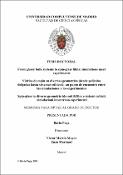 Files
Authors
Advisors (or tutors)
Editors
Publisher
Universidad Complutense de Madrid
Abstract
During my Ph.D., we made small progress in the secular question on the nature of the spin-glass system. However, we demonstrated the unique and powerful combination of experiments, theory, and simulations addressing complex dynamics. On one hand, the experimental progress on the sample preparation and the increased precision on the measurements of key physical observables have opened new prospects in the spinglass investigation. On the other hand, the Janus II special-purpose supercomputer, in combination with theory, is suficient to extend simulation time and length scales tovalues explored experimentally. The text is organized into four parts. In the following paragraphs, we introduce briefly each of them...
Esta tesis presenta nuestra modesta contribución a la comprensión y modelización de los vidrios de espín. En particular, hemos mostrado que la combinación resultados teóricos, numéricos y experimentales permite revolucionar la comprensión de la dinámica de estos sistemas complejos. Desde el punto de vista experimental, los progresos en la preparación de muestras se alían con la alta precisión de las medidas para abrir nuevas perspectivas previamente insospechadas. Por otro lado, el uso combinado del superordenador Janus II y el análisis teórico ha permitido obtener (e interpretar)simulaciones en una escala temporal comparable a la de los experimentos. Para explicar de manera coherente estos avances, hemos dividido el texto en cuatro partes cuyo contenido describimos a continuación...
Description
Tesis inédita de la Universidad Complutense de Madrid, Facultad de Ciencias Físicas, Departamento de Física Teórica I, leída el 19-07-2021
Collections