Publication:
La inversión Matuyama-Brunhes en la secuencia de terrazas del río Jarama entre Velilla de San Antonio y Altos de la Mejorada, al SE de Madrid (España)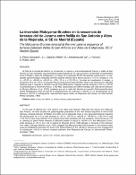 Advisors (or tutors)
Editors
Publisher
Consejo Superior de Investigaciones Científicas (España)
Abstract
Al Este de la ciudad de Madrid, en el valle del río Jarama y entre Mejorada del Campo y Velilla de San Antonio se han estudiado las propiedades paleomagnéticas de una secuencia de terrazas comprendidas entre El Rasillo y Altos de la Mejorada, a lo largo de la autopista M-203 de reciente construcción. La cartografía geomorfológica realizada permitió separar además de la llanura aluvial a +4-5 m, terrazas a +20 m, +30-35 m, +60-65 m, +85-90 m, +105-110 m y +125-130 m. De ellas se muestrearon 5 niveles, a excepción de la de +20 m, en taludes frescos de la autovía que permiten situar a las terrazas con altitudes relativas igual o mayores a +60-65 m en el Chron Matuyama, mientras que las terrazas a +20 m y +30-35 m pertenecerían al Chron Brunhes (< 0.780 Ma). Dataciones por ESR en terrazas del valle del río Arlanzón en Burgos (Moreno et al., 2012), sugieren que en el valle del Jarama la inversión Matuyama-Brunhes podría establecerse entre el final de la sedimentación de la terraza a +60-65 m y el encajamiento de la terraza a +50-55 m subsiguiente, representada aguas arriba de Mejorada del Campo, en Marchamalo (Pérez-González, 1994).
To the east of Madrid city in the Jarama river valley and between Mejorada del Campo and Velilla de San Antonio, we have studied the paleomagnetic properties of the river terrace sequence in the M-203 highway, located between El Rasillo and Altos de La Mejorada. Over a new geomorphological mapping the alluvial plain at +4-5 m and terraces at +20 m, +30-35 m, +60-65 m, +85-90 m, +105-110 m and +125-130 m have been defined. Five terraces have been sampled with the exception of the terrace at +20 m, allowing to place those terraces at altitudes greater or equal to +60-65 m in the Matuyama Chron, while terraces at +20 m and +35 m belong to Brunhes Chron. ESR datings on terraces in the Arlanzón river valley in Burgos (Moreno et al., 2012), suggest that Matuyama-Brunhes inversion in the Jarama valley could be established between the end of the sedimentation of the +60-65 m terrace and the engagement of subsequent +50-55 m terrace, located upstream from Mejorada del Campo, in Marchamalo (Pérez-González, 1994).
Collections