Publication:
Evaluación de la relación exposición-respuesta de bevacizumab y de cetuximab en cáncer colorrectal metastásico y de cetuximab en cáncer de cabeza y cuello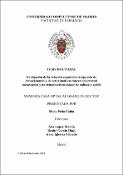 Files
Authors
Advisors (or tutors)
Editors
Publisher
Universidad Complutense de Madrid
Abstract
La dosificación de los anticuerpos monoclonales (mAbs, del inglés monoclonal Antibody) suele basarse en el área de superficie corporal o en el peso, debido a la percepción general de que la dosificación según el tamaño corporal reduce la variabilidad interindividual en la distribución y la eliminación; aunque esta estrategia es objeto de debate. Por otro lado, también se ha sugerido que la dosificación actual de mAbs en oncología puede no ser óptima desde la perspectiva de la eficacia y el coste. Puesto que el propósito de la monitorización es asegurar una exposición suficiente para el objetivo de eficacia, la reducción de dosis a partir de la monitorización terapéutica de fármacos (TDM, del inglés Therapeutic Drug Monito-ring), estaría indicada tanto en el caso de pacientes con concentraciones tóxicas, como en el caso de que se disminuyera sustancialmente el coste sin impacto en la eficacia. Además, en oncología, las modificaciones de dosis suelen ser reducciones debidas a toxicidad, pero rara vez se aumenta la dosis en ausencia de esta o de eficacia. En este sentido, la TDM tiene el potencial de optimizar el uso de fármacos en la práctica clínica. No obstante, en oncología, la estrategia de monitorización de mAbs está menos desarrollada que en otras áreas y existen pocos estudios que la apoyen. Una de las razones es la falta de una concentración objetivo a alcanzar para que un mAb sea efectivo en una enfermedad de-terminada, información a obtener a partir de estudios farmacocinéticos-farmaco-dinámicos...
Dosing of mAbs is often based on body surface area or weight, because of the general perception that dosing based on patients' body size reduces inter-subject variability in distribution and elimination. However, this has recently been challenged. Furthermore, it is suggested that the current dos-ing of cancer mAbs may not be optimal from an efficacy-cost perspective. This is explained, considering no impact in efficacy, when dose reductions would sub-stantially decrease the cost of treatment or in patients with very high drug con-centrations. Moreover, in oncology dose modifications are usually reductions due to toxicity, but rarely is the dose increased in the absence of efficacy or toxicity. Therapeutic drug monitoring (TDM) has the potential in oncology to opti-mize drug use in clinical practice. However, TDM in oncology is less developed than in other areas. Despite the fact that mAbs have many of the requisites for TDM there is a limited number of studies in oncology supporting TDM of mAbs. One of the reasons is the lack of a target concentration to be effective in each disease, information which is necessary for pharmacokinetic (PK)-pharmacody-namic studies...
Description
Tesis inédita de la Universidad Complutense de Madrid, Facultad de Farmacia, leída el 03-11-2021
Collections