Publication:
Keck-I mosfire spectroscopy of compact star-forming galaxies at z ≳ 2: High velocity dispersions in progenitors of compact quiescent galaxies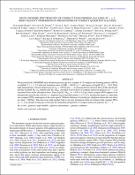 Files
Advisors (or tutors)
Editors
Abstract
We present Keck-I MOSFIRE near-infrared spectroscopy for a sample of 13 compact star-forming galaxies (SFGs) at redshift 2 ≤ z ≤ 2.5 with star formation rates of SFR ∼ 100 M yr−1 and masses of log(M/M ) ∼ 10.8. Their high integrated gas velocity dispersions of σint = 230+40 −30 km s−1, as measured from emission lines of Hα and [O iii], and the resultant M –σint relation and M –Mdyn all match well to those of compact quiescent galaxies at z ∼ 2, as measured from stellar absorption lines. Since log(M /Mdyn) = −0.06 ± 0.2 dex, these compact SFGs appear to be dynamically relaxed and evolved, i.e., depleted in gas and dark matter (˂13+17 −13%), and present larger σint than their non-compact SFG counterparts at the same epoch. Without infusion of external gas, depletion timescales are short, less than ∼300 Myr. This discovery adds another link to our new dynamical chain of evidence that compact SFGs at z ≳ 2 are already losing gas to become the immediate progenitors of compact quiescent galaxies by z ∼ 2.
Description
© 2014 The American Astronomical Society. Artículo firmado por 31 autores. We thank Sirio Belli for useful discussions and Dan Masters for providing us with additional data for his galaxies. Support for program number HST-GO-12060 was provided by NASA through a grant from the Space Telescope Science Institute, which is operated by the Association of Universities for Research in Astronomy, Incorporated, under NASA contract NAS5-26555. G.B. acknowledges support from NSF grant AST-08-08133. P.G.P.-G. acknowledges support from grant AYA2012-31277-E. This work has made use of the Rainbow Cosmological Surveys Database, which is operated by the Universidad Complutense de Madrid (UCM), partnered with the University of California Observatories at Santa Cruz (UCO/ Lick, UCSC). C.P. is supported by the KASI–Yonsei Joint Research Program (2014) for the Frontiers of Astronomy and Space Science funded by the Korea Astronomy and Space Science Institute. The authors recognize and acknowledge the very significant cultural role and reverence that the summit of Mauna Kea has always had within the indigenous Hawaiian community. We are most fortunate to have the opportunity to conduct observations from this mountain.
Citation
Alexander, D. M., Bauer, F. E., Brandt, W. N., et al. 2003, AJ, 126, 539 Baldwin, J. A., Phillips, M. M., & Terlevich, R. 1981, PASP, 93, 5 Barro, G., Faber, S. M., Pérez González, P. G., et al. 2013, ApJ, 765, 104 Barro, G., Faber, S. M., Pérez González, P. G., et al. 2014, ApJ, 791, 52 Bell, E. F., Papovich, C., Wolf, C., et al. 2005, ApJ, 625, 23 Bell, E. F., van der Wel, A., Papovich, C., et al. 2012, ApJ, 753, 167 Belli, S., Newman, A. B., & Ellis, R. S. 2014a, ApJ, 783, 117 Belli, S., Newman, A. B., Ellis, R. S., & Konidaris, N. P. 2014b, ApJL, 788, L29 Bennert, N., Falcke, H., Schulz, H., Wilson, A. S., & Wills, B. J. 2002, ApJL, 574, L105 Bezanson, R., van Dokkum, P., van de Sande, J., Franx, M., & Kriek, M. 2013, ApJL, 764, L8 Bezanson, R., van Dokkum, P. G., Tal, T., et al. 2009, ApJ, 697, 1290 Binney, J., & Tremaine, S. 2008, Galactic Dynamics (2nd ed.; Princeton, NJ: Princeton Univ. Press) Bothwell, M. S., Smail, I., Chapman, S. C., et al. 2013, MNRAS, 429, 3047 Brammer, G. B., van Dokkum, P. G., & Coppi, P. 2008, ApJ, 686, 1503 Brammer, G. B., Whitaker, K. E., van Dokkum, P. G., et al. 2011, ApJ, 739, 24 Bruzual, G., & Charlot, S. 2003, MNRAS, 344, 1000 Buitrago, F., Conselice, C. J., Epinat, B., et al. 2014, MNRAS, 439, 1494 Buitrago, F., Trujillo, I., Conselice, C. J., & Häußler, B. 2013, MNRAS, 428, 1460 Buitrago, F., Trujillo, I., Conselice, C. J., et al. 2008, ApJL, 687, L61 Calzetti, D., Armus, L., Bohlin, R. C., et al. 2000, ApJ, 533, 682 Cappellari, M., Bacon, R., Bureau, M., et al. 2006, MNRAS, 366, 1126 Cappellari, M., di Serego Alighieri, S., Cimatti, A., et al. 2009, ApJL, 704, L34 Cappellari, M., McDermid, R. M., Alatalo, K., et al. 2013, MNRAS, 432, 1862 Cassata, P., Giavalisco, M., Guo, Y., et al. 2011, ApJ, 743, 96 Cassata, P., Giavalisco, M., Williams, C. C., et al. 2013, ApJ, 775, 106 Ceverino, D., Dekel, A., & Bournaud, F. 2010, MNRAS, 404, 2151 Ceverino, D., & Klypin, A. 2009, ApJ, 695, 292 Ceverino, D., Klypin, A., Klimek, E., et al. 2014, MNRAS, 442, 1545 Chabrier, G. 2003, PASP, 115, 763 Chang, Y.-Y., van der Wel, A., Rix, H.-W., et al. 2013, ApJ, 773, 149 Cheung, E., Faber, S. M., Koo, D. C., et al. 2012, ApJ, 760, 131 Cimatti, A., Cassata, P., Pozzetti, L., et al. 2008, A&A, 482, 21 Courteau, S., Cappellari, M., de Jong, R. S., et al. 2014, RvMP, 86, 47 Daddi, E., Bournaud, F., Walter, F., et al. 2010a, ApJ, 713, 686 Daddi, E., Dannerbauer, H., Elbaz, D., et al. 2008, ApJL, 673, L21 Daddi, E., Elbaz, D., Walter, F., et al. 2010b, ApJL, 714, L118 De Breuck, C., Williams, R. J., Swinbank, M., et al. 2014, A&A, 565, A59 Dekel, A., & Birnboim, Y. 2006, MNRAS, 368, 2 Dekel, A., Birnboim, Y., Engel, G., et al. 2009, Natur, 457, 451 Dekel, A., & Burkert, A. 2014, MNRAS, 438, 1870 Dekel, A., Zolotov, A., Tweed, D., et al. 2013, MNRAS, 435, 999 Donley, J. L., Koekemoer, A. M., Brusa, M., et al. 2012, ApJ, 748, 142 Donley, J. L., Rieke, G. H., Pérez González, P. G., Rigby, J. R., & Alonso Herrero, A. 2007, ApJ, 660, 167 Elbaz, D., Dickinson, M., Hwang, H. S., et al. 2011, A&A, 533, A119 Elmegreen, B. G., & Elmegreen, D. M. 2005, ApJ, 627, 632 Elmegreen, D. M., Elmegreen, B. G., & Sheets, C. M. 2004, ApJ, 603, 74 Engel, H., Tacconi, L. J., Davies, R. I., et al. 2010, ApJ, 724, 233 Epinat, B., Tasca, L., Amram, P., et al. 2012, A&A, 539, A92 Erb, D. K., Steidel, C. C., Shapley, A. E., et al. 2006, ApJ, 647, 128 Faber, S. M., & Jackson, R. E. 1976, ApJ, 204, 668 Feldmann, R., & Mayer, L. 2014, arXiv:1404.3212 Förster Schreiber, N. M., Genzel, R., Bouché, N., et al. 2009, ApJ, 706, 1364 Förster Schreiber, N. M., Shapley, A. E., Erb, D. K., et al. 2011, ApJ, 731, 65 Franx, M., van Dokkum, P. G., Schreiber, N. M. F., et al. 2008, ApJ, 688, 770 Fu, H., & Stockton, A. 2009, ApJ, 696, 1693 Fumagalli, M., Labbe, I., Patel, S. G., et al. 2013, arXiv:1308.4132 Gallazzi, A., Charlot, S., Brinchmann, J., & White, S. D. M. 2006, MNRAS, 370, 1106 Genzel, R., Burkert, A., Bouché, N., et al. 2008, ApJ, 687, 59 Genzel, R., Förster Schreiber, N. M., Rosario, D., et al. 2014, arXiv: 1406.0183 Genzel, R., Tacconi, L. J., Combes, F., et al. 2012, ApJ, 746, 69 Genzel, R., Tacconi, L. J., Gracia Carpio, J., et al. 2010, MNRAS, 407, 2091 Gilli, R., Norman, C., Vignali, C., et al. 2014, A&A, 562, A67 Grogin, N. A., Kocevski, D. D., Faber, S. M., et al. 2011, ApJS, 197, 35 Guo, Y., Ferguson, H. C., Giavalisco, M., et al. 2013, ApJS, 207, 24 Guo, Y., Giavalisco, M., Cassata, P., et al. 2012, ApJ, 749, 149 Hernquist, L., & Mihos, J. C. 1995, ApJ, 448, 41 Holden, B. P., Oesch, P. A., González, V. G., et al. 2014, arXiv:1401.5490 Hopkins, P. F., Hernquist, L., Cox, T. J., et al. 2006, ApJS, 163, 1 Kassin, S. A., Weiner, B. J., Faber, S. M., et al. 2007, ApJL, 660, L35 Kennicutt, R. C., Jr. 1998, ARA&A, 36, 189 Kereš, D., Katz, N., Weinberg, D. H., & Davé, R. 2005, MNRAS, 363, 2 Kirkpatrick, A., Pope, A., Charmandaris, V., et al. 2013, ApJ, 763, 123 Koekemoer, A. M., Faber, S. M., Ferguson, H. C., et al. 2011, ApJS, 197, 36 Kravtsov, A. V., Klypin, A. A., & Khokhlov, A. M. 1997, ApJS, 111, 73 Kriek, M., van Dokkum, P. G., Labbé, I., et al. 2009, ApJ, 700, 221 Krist, J. 1995, in ASP Conf. Ser. 77, Astronomical Data Analysis Software and Systems IV, ed. R. A. Shaw, H. E. Payne, & J. J. E. Hayes (San Francisco, CA: ASP), 349 Laird, E. S., Nandra, K., Pope, A., & Scott, D. 2010, MNRAS, 401, 2763 Law, D. R., Steidel, C. C., Erb, D. K., et al. 2007, ApJ, 669, 929 Law, D. R., Steidel, C. C., Erb, D. K., et al. 2009, ApJ, 697, 2057 Law, D. R., Steidel, C. C., Shapley, A. E., et al. 2012, ApJ, 745, 85 Magdis, G. E., Daddi, E., Béthermin, M., et al. 2012, ApJ, 760, 6 Magnelli, B., Lutz, D., Santini, P., et al. 2012, A&A, 539, A155 Magnelli, B., Popesso, P., Berta, S., et al. 2013, A&A, 553, A132 Maseda, M. V., van der Wel, A., da Cunha, E., et al. 2013, ApJL, 778, L22 Masters, D., & Capak, P. 2011, PASP, 123, 638 Masters, D., McCarthy, P., Siana, B., et al. 2014, ApJ, 785, 153 McLean, I. S., Steidel, C. C., Epps, H., et al. 2010, Proc. SPIE, 7735, 77351 McLean, I. S., Steidel, C. C., Epps, H. W., et al. 2012, Proc. SPIE, 8446, 84460 Michałowski, M. J., Dunlop, J. S., Cirasuolo, M., et al. 2012, A&A, 541, A85 Muzzin, A., Marchesini, D., Stefanon, M., et al. 2013, ApJ, 777, 18 Naab, T., Johansson, P. H., Ostriker, J. P., & Efstathiou, G. 2007, ApJ, 658, 710 Narayanan, D., Krumholz, M. R., Ostriker, E. C., & Hernquist, L. 2012, MNRAS, 421, 3127 Nelson, E., van Dokkum, P., Franx, M., et al. 2014, Natur, 513, 394 Newman, A. B., Ellis, R. S., Bundy, K., & Treu, T. 2012, ApJ, 746, 162 Newman, A. B., Ellis, R. S., Treu, T., & Bundy, K. 2010, ApJL, 717, L103 Newman, S. F., Genzel, R., Förster Schreiber, N. M., et al. 2013, ApJ, 767, 104 Patel, S. G., van Dokkum, P. G., Franx, M., et al. 2013, ApJ, 766, 15 Peng, C. Y., Ho, L. C., Impey, C. D., & Rix, H.-W. 2002, AJ, 124, 266 Peralta de Arriba, L., Balcells, M., Falcón Barroso, J., & Trujillo, I. 2014, MNRAS, 440, 1634 Pérez González, P. G., Trujillo, I., Barro, G., et al. 2008, ApJ, 687, 50 Rangel, C., Nandra, K., Barro, G., et al. 2014, MNRAS, 440, 3630 Rodighiero, G., Daddi, E., Baronchelli, I., et al. 2011, ApJL, 739, L40 Shapley, A. E., Erb, D. K., Pettini, M., Steidel, C. C., & Adelberger, K. L. 2004, ApJ, 612, 108 Solomon, P. M., & Vanden Bout, P. A. 2005, ARA&A, 43, 677 Stefanon, M., Marchesini, D., Rudnick, G. H., Brammer, G. B., & Whitaker, K. E. 2013, ApJ, 768, 92 Steidel, C. C., Rudie, G. C., Strom, A. L., et al. 2014, arXiv:1405.5473 Swinbank, A. M., Smail, I., Sobral, D., et al. 2012a, ApJ, 760, 130 Swinbank, A. M., Sobral, D., Smail, I., et al. 2012b, MNRAS, 426, 935 Szomoru, D., Franx, M., & van Dokkum, P. G. 2012, ApJ, 749, 121 Tacconi, L. J., Genzel, R., Neri, R., et al. 2010, Natur, 463, 781 Tacconi, L. J., Genzel, R., Smail, I., et al. 2008, ApJ, 680, 246 Tacconi, L. J., Neri, R., Genzel, R., et al. 2013, ApJ, 768, 74 Toft, S., Gallazzi, A., Zirm, A., et al. 2012, ApJ, 754, 3 Toft, S., Smolčić, V., Magnelli, B., et al. 2014, ApJ, 782, 68 Trujillo, I., Conselice, C. J., Bundy, K., et al. 2007, MNRAS, 382, 109 Trump, J. R., Konidaris, N. P., Barro, G., et al. 2013, ApJL, 763, L6 Trump, J. R., Weiner, B. J., Scarlata, C., et al. 2011, ApJ, 743, 144 Tully, R. B., & Fisher, J. R. 1977, A&A, 54, 661 Utomo, D., Kriek, M., Labbe, I., Conroy, C., & Fumagalli, M. 2014, ApJL, 783, L30 van de Sande, J., Kriek, M., Franx, M., et al. 2013, ApJ, 771, 85 van der Wel, A., Bell, E. F., Häussler, B., et al. 2012, ApJS, 203, 24 van der Wel, A., Franx, M., van Dokkum, P. G., et al. 2014, ApJ, 788, 28 van der Wel, A., Rix, H.-W., Wuyts, S., et al. 2011, ApJ, 730, 38 van Dokkum, P. G., & Brammer, G. 2010, ApJL, 718, L73 van Dokkum, P. G., Franx, M., Kriek, M., et al. 2008, ApJL, 677, L5 Wake, D. A., van Dokkum, P. G., & Franx, M. 2012, ApJL, 751, L44 Weiner, B. J., Willmer, C. N. A., Faber, S. M., et al. 2006, ApJ, 653, 1027 Whitaker, K. E., Labbé, I., van Dokkum, P. G., et al. 2011, ApJ, 735, 86 Whitaker, K. E., van Dokkum, P. G., Brammer, G., et al. 2013, ApJL, 770, L39 Williams, C. C., Giavalisco, M., Cassata, P., et al. 2014a, ApJ, 780, 1 Williams, R. J., Maiolino, R., Santini, P., et al. 2014b, arXiv:1405.3664 Wuyts, S., Cox, T. J., Hayward, C. C., et al. 2010, ApJ, 722, 1666 Wuyts, S., Förster Schreiber, N. M., Genzel, R., et al. 2012, ApJ, 753, 114 Wuyts, S., Förster Schreiber, N. M., Lutz, D., et al. 2011a, ApJ, 738, 106 Wuyts, S., Förster Schreiber, N. M., van der Wel, A., et al. 2011b, ApJ, 742, 96 Xue, Y. Q., Luo, B., Brandt, W. N., et al. 2011, ApJS, 195, 10
Collections