Publication:
Tribunal Unificado de Patentes: competencia judicial y reconocimiento de resoluciones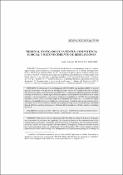 Authors
Advisors (or tutors)
Editors
Abstract
En relación con el nuevo Reglamento (UE) 542/2014, que modifica el RB I bis antes de que haya comenzado a ser aplicado, se abordan los rasgos básicos del Tribunal Unificado de Patents relevantes en lo relativo a su interacción con el RB I bis; la competencia judicial internacional del TUP, con especial referencia a la nueva regla subsidiaria respecto a demandados no domiciliados en un Estado miembro; y el reconocimiento y ejecución de resoluciones adoptadas por el TUP. Se presta particular atención al análisis crítico de la nueva regla de competencia que permite al TUP conocer de litigios relativos a demandados de terceros Estados por vulneración de una patente europea que ocasione perjuicios dentro de la Unión también en relación con los perjuicios que dicha vulneración haya ocasionado fuera de la Unión, con base en la presencia de bienes del demandado en un Estado miembro contratante del ATUP.
With regard to the new Regulation (EU) 542/2014 amending the Brussels I bis Regulation even before its provisions are applicable, the discussion focuses on the characterization of the Unified Patent Court and its relationship with the Brussels I bis Regulation, the international jurisdiction of the Unified Cort; and recognition and enforcement of its judgments. Particular attention receives the critical assessment of the new supplementary forum that enables UPC to hear disputes involving defendants from third States relating to an infringement of a European patent giving rise to damage aswell inside as outside the Union. Granting jurisdiction to the Unified Patent Court to adjudicate infringements outside the territory of the Contracting States to the Unified Patent Court Agreement on the basis of an asset–related supplementary ground of jurisdiction as the one established under Regulation 542/2014, seems questionable.
Collections