Publication:
La relevancia de los tiempos en la atención médica al estatus epiléptico y su impacto sociosanitario: educación en salud y evaluación funcional del paciente con epilepsia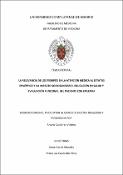 Files
Authors
Advisors (or tutors)
Editors
Publisher
Universidad Complutense de Madrid
Abstract
Se estima que entre el 1% y el 1,5% de la población mundial padece epilepsia, un trastorno cerebral caracterizado por una predisposición permanente a padecer crisis epilépticas y por las consecuencias neurobiológicas, cognitivas y psicosociales que conlleva. El estatus epiléptico es una forma de presentación de la epilepsia que consiste en la aparición de una crisis epiléptica que se prolonga en el tiempo, o bien de dos o más crisis epilépticas sin total recuperación del paciente entre ellas. El punto temporal a partir del cual una crisis epiléptica anormalmente prolongada se considera estatus epiléptico se ha ido acortando en las últimas décadas. La Liga Internacional Contra la Epilepsia inicialmente lo fijó en 30 minutos, pero más recientemente lo acotó a 5 minutos, pues cada vez son más las evidencias de que las crisis epilépticas prolongadas son más resistentes al tratamiento y tienen un peor pronóstico. No obstante, se necesitan más investigaciones para establecer la relación precisa entre ambas variables...
It is estimated that between 1% and 1.5% of the world's population suffers from epilepsy, a disorder of the brain characterized by an enduring predisposition to generate epileptic seizures and the neurobiological, cognitive and psychosocial consequences that it entails. Status epilepticus is a clinical presentation of epilepsy that consists of one seizure that is prolonged over time, or two or more seizures without full recovery of the patient in between. The timepoint at which an abnormally prolonged seizure is considered status epilepticus has been shortened in recent decades. The International League Against Epilepsy initially set it at 30minutes, while recently it has been shortened to 5 minutes, as there is growing evidence that prolonged seizures are more resistant to treatment and have worse prognosis. However, further research is needed to establish the precise relationship between the two variables...
Description
Tesis inédita de la Universidad Complutense de Madrid, Facultad de Medicina, Departamento de Medicina, leída el 29-09-2021
Collections