Publication:
Facial Morphogenesis of the Earliest Europeans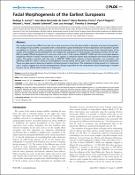 Advisors (or tutors)
Editors
Abstract
The modern human face differs from that of our early ancestors in that the facial profile is relatively retracted (orthognathic). This change in facial profile is associated with a characteristic spatial distribution of bone deposition and resorption: growth remodeling. For humans, surface resorption commonly dominates on anteriorly-facing areas of the subnasal region of the maxilla and mandible during development. We mapped the distribution of facial growth remodeling activities on the 900–800 ky maxilla ATD6-69 assigned to H. antecessor, and on the 1.5 My cranium KNM-WT 15000, part of an associated skeleton assigned to African H. erectus. We show that, as in H. sapiens, H. antecessor shows bone resorption over most of the subnasal region. This pattern contrasts with that seen in KNM-WT 15000 where evidence of bone deposition, not resorption, was identified. KNM-WT 15000 is similar to Australopithecus and the extant African apes in this localized area of bone deposition. These new data point to diversity of patterns of facial growth in fossil Homo. The similarities in facial growth in H. antecessor and H. sapiens suggest that one key developmental change responsible for the characteristic facial morphology of modern humans can be traced back at least to H. antecessor.
Collections