Publication:
La correspondencia entre códigos audiovisuales en los géneros informativos televisivos: noticias y reportajes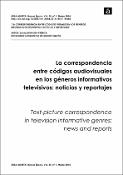 Authors
Advisors (or tutors)
Editors
Publisher
Departamento de Comunicación Audiovisual y Publicidad I. Facultad de Ciencias de la Información UCM
Abstract
Una investigación ha analizado distintos tipos de relaciones entre códigos audiovisuales en los géneros informativos televisivos de finales de la década de 2000. La observación directa de una muestra de noticias y reportajes emitidos en informativos de televisión generalista y la práctica de una serie de entrevistas a profesionales de la información audiovisual confirman que las relaciones entre los códigos audiovisuales más habituales son las que buscan el equilibrio perfecto entre el audio y el vídeo así como aquellas en las que predomina el código lingüístico. Además se detecta que el transcurso del tiempo influye en la elección de un determinado tipo de relación entre códigos a la hora de elaborar el mensaje audiovisual en noticias y reportajes de distinto tipo y duración. Un experimento practicado entre sesenta voluntarios demuestra que la audiencia es capaz de identificar tanto los distintos modos de relacionar el audio y el vídeo como su correspondiente grado de coordinación.
A research about text-picture correspondence in news and reports show that redundancy between audio and visuals together with the predominance of the verbal code are the more usual ways to elaborate informative messages on television news programs. Direct observation of news and reports broadcasted in generalist television channels along with a series of interviews with television journalists confirm these results. The study also reveals that the degree of text-picture correspondence in different types of news and reports is clearly influenced by the passing of time. Furthermore, a sixty participant experiment show that the audience seems to be perfectly able to identify diverse associations of verbal and visual codes as well as different degrees of coordination between audiovisual items.
Collections