Publication:
La llegada y adaptación de alimentos americanos en Europa y su reflejo en el arte europeo de la Edad Moderna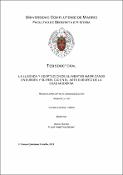 Files
Authors
Advisors (or tutors)
Editors
Publisher
Universidad Complutense de Madrid
Abstract
El encuentro y conquista de América fue, sin lugar a duda, uno de los acontecimientos más relevantes de la Edad Moderna. Sus consecuencias económicas, sociales y políticas alcanzaron en mayor o menor medida a todas las regiones europeas y a todas las capas de la sociedad. Uno de los aspectos que, a la larga, más consecuencias trajo consigo para la vida cotidiana de los europeos fue la introducción y adaptación de plantas y animales procedentes del continente americano, que llegaron a convertirse en parte esencial de las dietas europeas. Su impacto en la alimentación europea ha sido profundamente estudiado por los historiadores. Sin embargo, de entre todas las fuentes documentales empleadas (recetarios, obras científicas…), hay una que todavía no parece haber sido convenientemente analizada: las obras de arte. De la constatación de este hecho surge la presente tesis doctoral, que tiene como principalesobjetivos:1. Mostrar la relación que existe entre determinadas condiciones materiales, sociales, culturales e ideológicas y la representación de elementos ajenos a la cultura europea;2. Analizar el valor de las representaciones artísticas como fuente para conocer el fenómeno de la llegada y aclimatación de los alimentos americanos a Europa, en comparación con otras fuentes empleadas tradicionalmente para el estudio de este hechohistórico;3. Y analizar el valor general que el arte puede tener como fuente documental para la historia, sus límites, posibilidades y condicionamientos...
The encounter and conquest of America was, without a doubt, one of the most relevant events of the Modern Age. Its economic, social, and political consequences reached, to a greater or lesser extent, all European regions, and all layers of society. One of the aspects that, in the longterm, brought the most consequences for the daily life of Europeans was the introduction and adaptation of plants and animals from the American continent, which became an essential part of European diets. Their impact on European food has been deeply studied by historians. However, among all the documentary sources used (recipe books, scientific works...), there is one that still does not seem to have been properly analysed: works of art.From the confirmation of this fact, the present doctoral thesis arises and has as its main objectives:1. To show the relationship between some material, social, cultural, and ideological conditions and the representation of elements external to European culture.2. To analyse the value of artistic representations as a source for understanding the phenomenon of the arrival and acclimatisation of American foods in Europe, in comparison with other sources traditionally used for the study of this historical phenomenon.3. And to analyse the general value that art can have as a documentary source for history, its limits, possibilities, and determinants...
Description
Tesis inédita de la Universidad Complutense de Madrid, Facultad de Geografía e Historia, Departamento de Historia del Arte, leída el 19-07-2021
Collections