Publication:
Primary biogenic skeletal structures in Multithecopora (Tabulata, Pennsylvanian)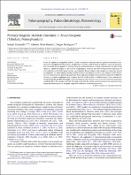 Advisors (or tutors)
Editors
Abstract
Corals are significant components of fossil marine communities and important for paleoenvironmental reconstructions throughout the Phanerozoic. Despite their abundance and diversity in Paleozoic rocks, the presence, and criteria for the recognition of primary, biogenic skeletal structures is highly controversial. The aim of this study is a multilevel analysis of the diverse morphological elements that form well-preserved specimens of the Carboniferous Multithecopora tabulate coral skeleton. Results indicate that samples are minimally altered by diagenesis, but most importantly that skeletal structures are biogenic in nature, and similar to those of modern and fossil carbonate-producing organisms. Nano- and microcrystals form a complex framework of different domains of crystal morphologies that comprise the bulk of the skeleton in Multithecopora. These domains are thought to be the possible phenotypic response of the genotype of these corals, and had a structural importance during the life of the organism. Overall, this study sheds light for a better understanding on the controversy that exists about the biogenic or abiogenic origin of the Paleozoic coral microstructures.
Collections