Publication:
España fuera de España. El patriotismo español en la emigración argentina: una aproximación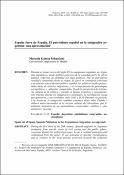 Advisors (or tutors)
Editors
Publisher
Consejo Superior de Investigaciones Científicas
Abstract
Durante el primer tercio del siglo XX los emigrantes españoles en Argentina impulsaron, desde ámbitos concretos de la sociedad civil y la esfera pública, empresas de identidad con fines políticos. Fue un patriotismo residual y condenado desde su origen. Se activó en coyunturas concretas y en relación con el devenir político español, las políticas locales proyectadas hacia el colectivo migratorio, y el reconocimiento de genealogías sociopolíticas y culturales compartidas. Desde la perspectiva de la historia cultural de la política, y basado en fuentes primarias y secundarias, este artículo aborda los imaginarios construidos, la movilización social que generaron, y sus resultados entre 1885 y 1920. Durante ese período, a la distancia, la emigración también construyó ideas sobre España y elaboró mitos nacionales en la versión cultural del liberalismo que finalmente derivaron en un nacionalismo conservador, católico y –por momentos– fascista.
During the first third of the 20th century, Spanish migrants in Argentina prompted, from specific areas of civil society and the public sphere, corporate identity for political purposes. It was a residual patriotism and condemned from the outset. It was activated in specific circumstances and in relation to the local policies projected towards the collective migratory, the Spanish politics, and recognition of shared sociopolitical and cultural genealogies. From the perspective of cultural history of the policy, and based on primary and secondary sources, this article discusses about built imaginaries, social mobilization generated and results between 1885 and 1920. During that time, from distance, migrants also built ideas about Spain and drawn up national myths in the cultural version of liberalism that eventually led to a conservative nationalist, catholic and –at times– fascist.
Collections