Publication:
Castillo-palacio de La Calahorra, Granada: influencia de los factores climáticos y arquitectónicos en el deterioro diferencial de sus fábricas pétreas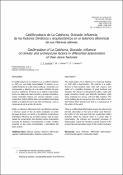 Advisors (or tutors)
Editors
Publisher
Consejo Superior de Investigaciones Científicas
Abstract
El castillo-palacio de La Calahorra es un edificio histórico (s. XVI) con una doble funcionalidad. El exterior es un castillo-fortaleza de estilo tardo-medieval, construido con mampuestos y sillarejos de una caliza cristalina de gran dureza y resistencia. El interior es un palacio renacentista, hecho con sillares de caliza micrítica y arenisca dolomítica, ambos materiales pétreos son porosos, blandos y poco resistentes. Todo el edificio tiene una tonalidad anaranjada debido a la pátina de hierro que tiñe sus fábricas y que es consecuencia de la acción del viento. Existe un deterioro diferencial entre sus fábricas externas e internas, según el tipo de piedra empleado, la acción del agua de lluvia y el viento, y los defectos constructivos detectados. Mientras que la piedra exterior está en buen estado de conservación, las interiores sufren importantes procesos de deterioro, principalmente la caliza micrítica presente en las zonas ornamentales y decorativas del patio central.
The castle-palace of La Calahorra is a historical building (s. XVI) with a dual-function. The exterior is a castlefortress of late-medieval style, built with masonry and ashlar of a crystalline limestone of great hardness and strength. The interior is a Renaissance palace, made with ashlar limestone micritic and dolomitic sandstone, both stone materials are porous, soft and little resistant. The entire building has an orange hue due to the patina of iron that stained their factories and that is a consequence of the action of the wind. There is a differential deterioration among its external and internal, depending on the type of stone used factories, the action of rain and wind and the construction defect detected. While the exterior stone is in good state of conservation, the interiors are important processes of deterioration, mainly the limestone micritic present in the ornamental and decorative areas of the central courtyard.
Description
Recepción/Received: 11-IX-12; Aceptación/Accepted: 29-X-12; Publicado online/Online publishing: 9-I-13
Collections