Publication:
La construcción de la Marca España a través de las redes sociales : el caso del Alto Comisionado para la Marca España en Facebook, Twitter y YouTube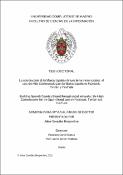 Files
Authors
Advisors (or tutors)
Editors
Publisher
Universidad Complutense de Madrid
Abstract
Durante las últimas décadas, la sociedad moderna ha visto cómo internet y las redes sociales se han posicionado como un elemento primordial y central en el día a día. Estas tecnologías han impactado directamente en la mayoría de los ámbitos, modificando su forma de funcionar y la de las personas implicadas. La comunicación no ha permanecido impermeable a dichos cambios y, de hecho, ha sufrido una gran transformación con la instantaneidad y la globalidad que ofrecen las redes sociales, afectando a su vez a una gestión de los intangibles empresariales que cada vez se considera más importante fruto de la creciente globalización. Relacionado con esa globalización y esa mayor importancia de la gestión de los intangibles, los territorios han descubierto que compiten en un contexto mundial frente a otros territorios por la atracción de talento, inversiones y turismo y por mejorar la posición de sus bienes y servicios en el mercado global. Frente a esta situación, los territorios, ya sean países, regiones, ciudades o municipios, se han lanzado a gestionar proactivamente sus intangibles con el objetivo de contar con una ventaja competitiva frente al resto de contendientes en esa lucha global. Uno de esos territorios es España, que en 2012 crea el Alto Comisionado para la Marca España (ACME) como organismo responsable de gestionar la Marca España y con el objetivo de mejorar la imagen del país, institución que estuvo vigente hasta octubre de 2018..
During the last decades, modern society has seen how the internet and social networks have become a primary and central element in everyday life. These technologies have had a direct impact on most areas, modifying their way of working and that of the people involved. Communication has not remained oblivious of these changes and, in fact, has undergone a great transformation with the instantaneousness and globality offered by social networks, affecting in addition to management of business intangibles that is increasingly considered more important as a result of increasing globalization.Related to this globalization and the greater importance of the management of intangibles, the territories have discovered that they compete in a global context against other territories for the attraction of talent, investments and tourism and to improve the position of their goods and services in the world global market. Faced with this situation, the territories, whether they are countries, regions, cities or municipalities, have begun to proactively manage their intangibles in order to have a competitive advantage over the rest of the contenders in this global fight. One of those territories is Spain, which in 2012 created the High Commissioner for the Spain Brand (Alto Comisionado para la Marca España and ACME for its Spanish acronym) as the body responsible for managing the Spain Brand (Marca España) and with the aim of improving the country's image, an institution that was in force until October 2018...
Description
Tesis inédita de la Universidad Complutense de Madrid, Facultad de Ciencias de la Información, leída el 12-07-2021
Collections