Publication:
Los parques nacionales españoles, catalizadores del turismo sostenible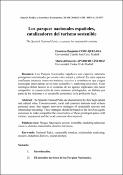 Advisors (or tutors)
Editors
Publisher
Real Centro Universitario Escorial-María Cristina
Abstract
Los Parques Nacionales españoles son espacios naturales protegidos caracterizados por su alto valor natural y cultural. En estos espacios confluyen intereses conservacionistas, sociales y económicos que exigen estrategias innovadoras de turismo sostenible y marketing relacional. Estas estrategias deben basarse en el consenso de los agentes implicados para hacer compatible la conservación de estos entornos privilegiados, su disfrute por parte de los visitantes y el desarrollo económico de la población local.
The Spanish National Parks are characterized by their high natural and cultural value. Conservacionist, social and economic interests meet in these protected areas, that require innovative strategies of sustainable tourism and relationship marketing. These strategies should be based on the involved agents consensus to make compatible the conservation of these privileged spaces with visitors´ enjoyment and the local economic development.
Collections