Publication:
Reflejo pupilar a la luz en pacientes tratados con fármacos para el trastorno bipolar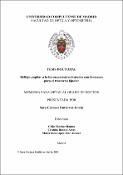 Files
Authors
Advisors (or tutors)
Editors
Publisher
Universidad Complutense de Madrid
Abstract
La psiquiatría es la rama de la medicina que estudia la prevención, el tratamiento y la rehabilitación de los trastornos psiquiátricos, es decir, aquellas enfermedades que se producen debido a una disfunción del cerebro y sus funciones, produciendo una serie de síntomas biológicos, psicológicos y sociales. Entre estos trastornos, el bipolar es un trastorno mental grave, de carácter crónico y recurrente en el que se presentan fluctuaciones marcadas y persistentes del estado de ánimo que conforman, junto con otros síntomas, los episodios de manía, hipomanía y depresión.Los psicofármacos son el tratamiento de elección en muchos casos para el tratamiento de las enfermedades mentales. Su mecanismo de acción es muy variado en función del tipo de medicamento del que se trate, cambiando la función mental gracias a su interacción con los sistemas nerviosos del individuo. En este sentido, es de interés analizar el efecto de los agentes psicofármacos en el reflejo pupilar a la luz mediante pupilometría dinámica, ya que el reflejo fotomotor está mediado por el sistema nervioso vegetativo...
Psychiatry is the specialty of medicine that studies the prevention, treatment and rehabilitation of psychiatric disorders. That is, those diseases that occur due to a dysfunction of the brain and its functions, producing biological, psychological and social alterations. Among these disorders, bipolarity is a serious, chronic and recurrent mental disorder in which marked and persistent fluctuations in mood occur. These mood changes include, along with other symptoms, episodes of mania, hypomania and depression. In many cases, psychotropic drugs are the chosen treatment for mental illness. Their mechanisms of action are very varied depending on the type of drug, allowing a change in mental function thanks to its interaction with the nervous systems of the individual...
Description
Tesis inédita de la Universidad Complutense de Madrid, Facultad de Óptica y Optometría, leída el 21-05-2021
Collections