Publication:
El modelo de seguridad alimentaria de la Unión Europea y su dimensión exterior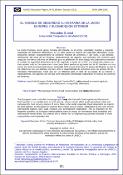 Authors
Advisors (or tutors)
Editors
Abstract
La Unión Europea, tercer grupo humano del planeta, es el primer importador mundial y segundo exportador de productos alimenticios. Es un actor global en materia de seguridad alimentaria, cuyas decisiones afectan sustancialmente al comercio mundial de alimentos y, por tanto, a las políticas alimentarias del resto de los Estados, especialmente, de aquellos que necesitan del comercio para asegurar una oferta suficiente de alimentos para su población. En este trabajo nos proponemos examinar el modelo de seguridad alimentaria de la UE, regulado a través de la PAC, y la dimensión exterior de este modelo, esto es, las relaciones comerciales sobre productos agrícolas que la UE mantiene con sus socios así como la cooperación para el desarrollo. Esto es relevante para los países del Magreb, ya que la UE determina con sus políticas internas tanto la disponibilidad de alimentos como los precios de los mercados internacionales. Tiene que ser un referente para el resto de los países de su entorno y, especialmente, con aquellos con los que tiene relaciones comerciales específicas en materia de comercio de alimentos.
The European Union is the third human group in the planet, the first world food importer and the second food exporter. It is a global actor in food security, whose policies affect world agricultural trade and, consequently, food security policies of every State in the world, especially those dependent on imports for food supplies. In this paper we examine the EU food security model, established by the CAP, and its international aspects, food trade relations and development cooperation. This is important for the Maghreb countries, as European internal policies have an impact on international food availability and international market prizes. EU policies are a referent for its neighbouring countries because of close trade policies and cooperation ties.
Collections