Publication:
A corpus-based study of relative clauses in 18th and 19th centuryAustralian English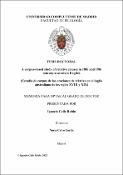 Files
Authors
Advisors (or tutors)
Editors
Publisher
Universidad Complutense de Madrid
Abstract
This study aims at analysing relative clauses in Australian English from 1788 to 1900 and the possible influence which 18th and 19th century grammarians had on the first settlers and, lately, on the Australian inhabitants. The main objective is to analyse the different relativization strategies, that is, case-marked wh- relatives, the invariable that,and the gap relativizer zero, and the effect of prescriptive grammars, which could be seen on the medium, written or oral, and the formality of the context. These two factors may result in the use of any of the strategies previously described either by following normative principles or by slowly distancing from such precepts, which might contribute to an endonormative innovation from a linguistic exonormative reality based on British English. Additionally, this investigation could determine to what extent the text category and the medium may affect the distribution of relatives, the syntactic functions which they realize, the placement of the preposition when complementing a preposition, and the typology, that is, restrictive or non-restrictive. In conclusion, this research will contribute to a detailed analysis which allows, on the one hand, to learn about some aspects of early Australian English and, on the other hand, a diachronic view of this specific variety or a future contrastive analysis with other varieties of English...
El presente estudio se centra en las oraciones de relativo en el inglés australiano desde1788 a 1900 y la posible influencia de las gramáticas prescriptivas en los primeros pobladores y, posteriormente, en los habitantes de Australia. El principal objetivo es el análisis de las diferentes estrategias de relativización, a saber, los pronombres de relativo introducidos por wh, el invariable that y el relativo omitido zero, y la repercusión de las gramáticas prescriptivas del siglo XVIII, que podría verse reflejada, por un lado, en el medio, es decir, escrito o hablado, y por otro lado, en la formalidad del contexto. Estos dos factores podrían suponer el uso de cada una de las estrategias bien siguiendo las normas dictadas en las gramáticas o mostrando cierto distanciamiento de tales preceptos, que podría dar paso a su vez a una innovación endonormativa desde una realidad lingüística exonormativa basada en el inglés británico. Adicionalmente, este análisis puede determinar hasta qué punto la categoría textual y el medio pueden afectar a la distribución de los relativos, las funciones sintácticas que desempeñan, la colocación de la preposición en el caso de tratarse de un complemento de la misma y la tipología, es decir, si la oración es especificativa o explicativa. En definitiva, este estudio pretende contribuir a un análisis detallado que permitirá, por un lado, conocer la base lingüística del inglés australiano y, por otro, un estudio diacrónico de la propia variedad o un futuro análisis contrastivo con otras variantes del inglés...
Description
Tesis inédita de la Universidad Complutense de Madrid, Facultad de Filología, leída el 18-01-2022
Collections