Publication:
A propósito de la edición en español de Incertezze sull'individuo de Capograssi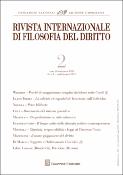 Authors
Advisors (or tutors)
Editors
Abstract
Con ocasión de la publicación del ensayo capograssiano Incertezze sull'individuo, bajo el título El individuo sin individualidad, el presente artículo narra brevemente la historia del encuentro existencial entre la autora y la figura de Giuseppe Capograssi y subraya la actualidad del magisterio del jurista y filósofo italiano. Con el cuerpo principal del trabajo, trata de presentar al público hispano a este genial pensador europeo del siglo XX que, atravesando las razones del nihilismo y plantando cara a la muerte y al mal, salió de las tinieblas y descubrió una luz que hacía nuevas todas las cosas. Era preciso anunciar en esta revista de prestigio en Italia y en Europa este primer paso en la edición española de las principales obras capograssianas.
On the occasion of the publication of the capograssian essay Incertezze sull'individuo, under the Spanish title El individuo sin individualidad, the current article briefly recounts the story of the existential encounter between the author and the figure of Giuseppe Capograssi. The article also underlines the current pertinence of the Italian lawyer and philosopher's teaching. In the main body of the text, it tries to introduce this brilliant European thinker of the XXth century to the Hispanic public. Passing through the reasons of nihilism and facing up to death and evil, he went out of darkness and found out a light that made all things new. It was necessary to announce in this prestigious journal in Italy and in Europe this first step in the Spanish edition of Capograssi's most relevant works.
Collections